Border officials first became suspicious of the young woman when they saw her using a trolley to carry just one rolling suitcase. They were guarding one of only two land entrances to Spain (and thus, the European Union) from Africa, and have witnessed their fair share of desperate smuggling tactics. Last month alone, more than 1,000 migrants from across Africa tried their luck at Ceuta, a small Spanish enclave at Morocco's northern edge.
When the officials approached the woman Sunday, she showed an "evasive attitude," according to CNN. They opened the suitcase, and they found a 19-year-old boy from the Central African nation of Gabon.
He was immediately taken to a hospital to prevent further asphyxiation.
This was not the first time a person was found in someone's baggage. In 2015, an 8-year-old boy from Ivory Coast was discovered in a suitcase by an X-ray scanner. The phantom-like image, released by the Spanish Interior Ministry, is perhaps even more shocking than that of the Gabonese teenager.
After the 8-year-old was found, a Spanish court ordered the detention of his father, who tried to cross the border just hours after his son was found. They also arrested a 19-year-old Moroccan woman who had been carrying the suitcase.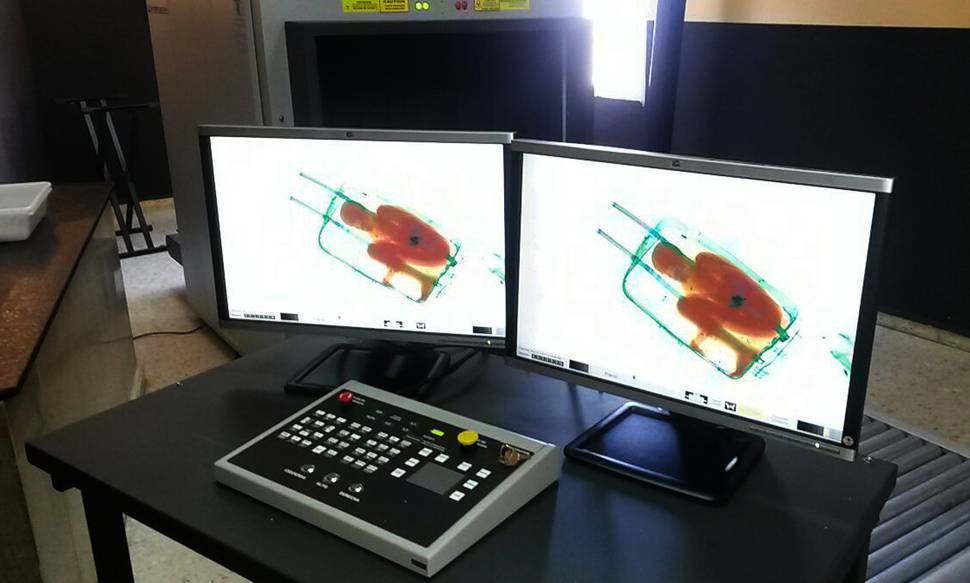 The incident this Sunday was only one small part of a larger drama that played out at the border in Ceuta. The enclave is surrounded by a 20-foot wall. That day, at least 800 migrants stormed the wall in a collective effort to overpower Moroccan and Spanish guards. None of them actually made it across, but five Spanish police officers and 50 Moroccan officers were injured, 10 severely, according to the Spanish government.
Dozens of the migrants made it to the top of the fence, but they were removed - back to the Moroccan side - by cranes.
In early December, 400 migrants successfully climbed the wall in the biggest breach in more than a decade - which may have served as inspiration for those making the latest attempt.
The two Spanish enclaves of Ceuta and Melilla lie just across the Mediterranean from the Spanish mainland. Despite the harrowing tales of climbing huge walls and asphyxiating in suitcases, the crossing at these footholds is widely seen as the safest option for migrants from Africa. Most others take the riskier, but more often successful, sea route to Italy from Libya. Almost 5,000 migrants drowned in those seas in 2016, making it the deadliest year there since records have been kept.
On Monday, authorities in Ceuta discovered two more migrants using a potentially life-threatening method to smuggle themselves across the border. A Guinean man and woman, both in their early 20s, were found stashed into hollowed-out portions of the back seat and dashboard of a stolen Volkswagen. The Moroccan driver was arrested.