The taxi driver who bashed down the back door of a bus as it burst into flames has said the terrified passengers "would have died" if they didn't get out of the bus in time.
Aguek Nyok also described how the man responsible for the incident was the first to escape the bus after he caught on fire himself.
"He was shaken, no one spoke to him," Mr Nyok told news.com.au
"One young lady, when everyone got out she told me, 'that's the one who did it - he was shaking."
Details over what is being described as a "truly heinous crime" are slowly emerging after a bus driver was killed in Brisbane when a passenger boarded and allegedly "set him on fire".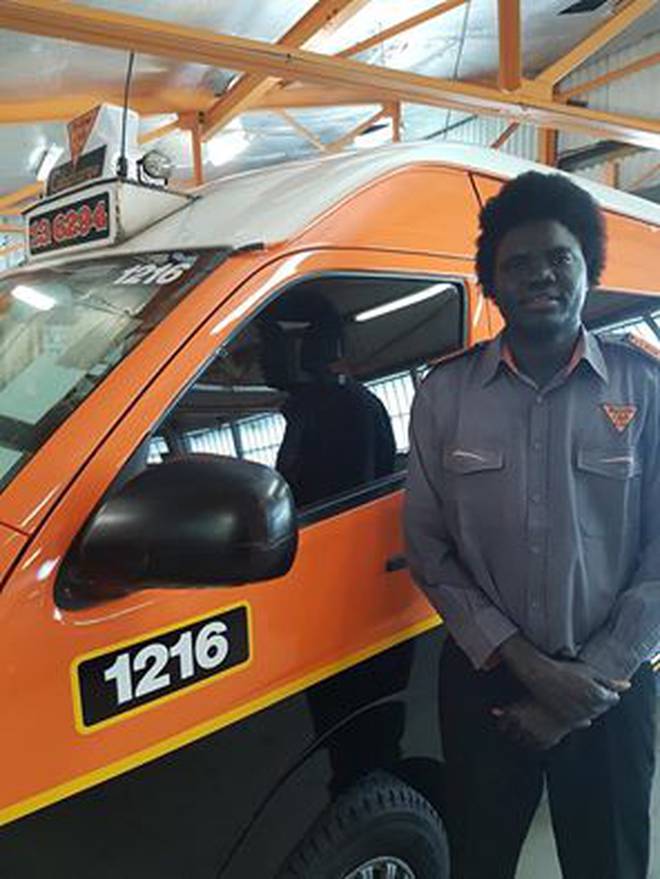 Mr Nyok, a local cab driver that had stopped to get a haircut, told news.com.au he saw the incident unfold in front of him and witnessed passengers staring directly at him and pleading with him "screaming for their lives" to "open the door for us".
Mr Nyok said his first thought was "getting people out of there".
"I stepped in and thought I should do something," Mr Nyok told news.com.au.
"I'm assuming they would have died because of the smoke. It was very heavy."
He said he was "just trying to help".
"Literally as I pulled up I saw and heard the front of the bus explode and a guy ran out and he was covered in flames, head to toe," he told The Courier Mail.
"All the people were at the back trying to get out of the bus but they couldn't get out the front because of the flames.
"They couldn't open the back door so I kicked it down and they all came running out.
"Even when the door opened it kept trying to close on me and it was so, so hot in there."
Brisbane's Yellow Cab company have confirmed the cab driver, Mr Nyok, is a part of their fleet, and "are not surprised" by his heroic actions.
"I agree with the police that he's a hero," said Yellow Cab general manager Bill Parker.
"I'm not surprised because this is not unusual for drivers of our fleet to be out there in the community.
"Unfortunately someone has passed away and that's very sad."
It is understood the company was yet to speak to Mr Nyok as he is still talking to police.
"We like to believe we're part of the social structure of our community," Mr Parker told news.com.au.
He said he was "not surprised" by Mr Nyok's quick thinking and said the company's specific cab driver first aid training was crucial to drivers' development.
"They're not trained to fix a broken leg but they're trained how to recognise if someone is having medical trauma," Mr Parker said.
"They have saved peoples' lives in the past but nothing as horrific as this."
Mr Nyok credited the company's first aid training, crediting it as "helping with your judgement".
Clair Savage, who was in a shop nearby when the scene unfolded, saw Mr Nyok bash down the door.
Ms Savage told the Courier Mail she saw the bus pull up and saw people screaming for help inside.
She ran out and saw Mr Nyok repeatedly bashing the door to give way to panicked passengers still trapped inside.
The shop owner ran outside with a fire extinguisher but the flames "kept reigniting, with the driver trapped inside".
The shocking incident happened just after 9am local time in the south Brisbane suburb of Moorooka.
Police alleged a 48-year-old entered the TransLink bus while it was stopped on Beaudesert Rd and doused the 29-year-old driver in the liquid and set him alight.
Queensland Superintendent Jim Keogh told reporters: "There is no apparent motive. We're not alleging robbery - this is the senseless, needless taking of a life going about supporting the community by providing transport."
The attack was not terrorism-related, but police were stunned by how sudden and brutal it was.
"It would appear random."