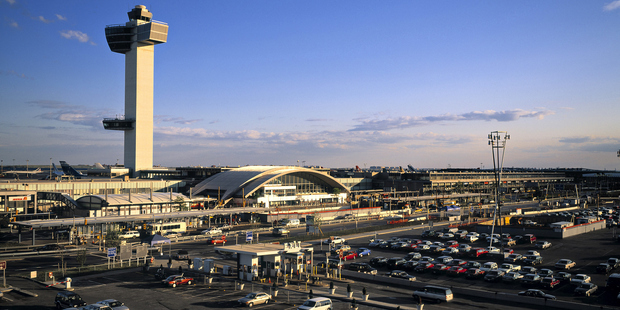 Police evacuated Terminal 8 at New York's John F. Kennedy International Airport out of an 'abundance of caution' following reports of shots fired, but say investigators found no evidence of a shooting.
Thousands of passengers were forced to evacuate the terminal shortly after 9.30pm as police searched for an alleged armed suspect on Sunday evening.
However, no injuries were reported and flights due to land at JFK were diverted to Buffalo and those destined for the airport, in Queens, were grounded.
Terminals 1 and 8 are closed and the Van Wyck Expressway approaching JFK Airport is also closed as a safety precaution.
But in a statement, the Port Authority of New York and New Jersey said: 'Preliminary investigation does not indicate shots were fired at JFK.
Extent of what I can see from other side of Terminal 8 at #JFK pic.twitter.com/FGTHTTUBiB

— Ryan M Craver (@ryanmcraver) August 15, 2016
"At this time, no gun shells or other evidence of shots fired has been found. The terminal was evacuated out of an abundance of caution."
The Port Authority added that a substantial police presence of PAPD and NYPD officers remains at JFK as well as LaGuardia Airport.
They added that an investigation is ongoing and that travelers should contact their carriers for further information.
Port Authority police received a call about shots being fired from the American Airlines' Terminal 8 departures area, ABC7 reports.
Panic at jfk theyre closing the gates at security-possible shooter pic.twitter.com/OJUIFaenEI

— Dan Archer (@archcomix) August 15, 2016
In a statement, the airline said that there were no known injuries to their employees or passengers.
The panic began after a woman told police she saw a man with a gun at the terminal, the New York Post reports.
The passenger told police about the man shortly after 9.30pm, prompting police to evacuate the terminal as they hunted the alleged gunman.
An NYPD Emergency Services Unit officer armed with automatic rifles scoured the area and passengers, according to the Post.
Dan Archer, who was in the terminal at the time, reported 'panic' as gates were closed at security due to a "possible shooter".
At #JFK #Airport police everywhere. Supposedly a shooting happened. Airport is in lockdown. Scary. @News12LI pic.twitter.com/quzD1U5wse

— AGinsberg (@AGinsberg) August 15, 2016
"Still not confirmed shooter police armed and patrolling we're still in security by screening with gates locked down," he said on Twitter.
He added later: "We're all safe, collecting belongings, been told the situation has been cleared at #jfk"
"Police won't say anything except "it's not safe to stay here" as we leave terminal 8."
Robbie Rob added: "Everyone is being kicked out of the terminal. Police on alert!"
Some passengers on social media reported flights due to land at JFK were being diverted without crew informing them why.
"About to land at JFK, but pilot suddenly announces flight diverted to Buffalo! JFK apparently 'shut-down'. No idea why," wrote Umang Dua on Twitter.