Key Points:
A woman in her 60s has died and five other people have been injured after a man with "significant mental health issues" allegedly "went on the rampage" with a knife in a possible terror-related attack in central London. Police confirmed a 19-year-old man was arrested after being Tasered in connection with a mass stabbing in front of horrified onlookers in Russell Square at about 10.30pm last night. Fears that the knifeman operated with an accomplice were raised in the early hours as the Met refused to rule out further suspects. One witness said he saw 'a man flee on a motorbike', while another described hearing one of the victim's 'screaming and covered in blood'.
Large police presence around Russell Square, allegedly due to gang violence... pic.twitter.com/7RnDwFnhq6

— Jeremy Cheng (@jezze_0410) August 3, 2016
Officers arrived at the scene to find six people injured including one woman who died from her injuries a short time later. The condition of the other five - one man and four women - is not yet known and police have not yet named or revealed the ages of the victims. The incident occurred in the same area as where one of the 7/7 bombs detonated in 2005. A total of 26 people were killed when Germaine Lindsay, 19, detonated a suicide bomb on a Piccadilly line Tube as it moved between King's Cross station and Russell Square. The incident also comes just hours after the Met unveiled its brand new elite anti-terror unit. Scotland Yard confirmed that 'terrorism is one possibility being explored at this stage'. They confirmed murder detectives and the counter-terrorism unit had been brought in to investigate the killing. One source said the suspect was seen to go "on the rampage" with the weapon. The woman's body is still believed to be on the pavement at the scene with a forensics tent covering it. Police have cordoned off the area and there is a heavy presence of officers and paramedics. Additional police patrols will be in place in London tomorrow. One witness said he heard the victim scream before running over to help them. The man, who goes by the name Michael, told MailOnline that he saw a woman - aged around 25 - with blood pouring from her back. He said another woman of the same age was suffering a wounded arm. He said he believed the victims were heard speaking in Spanish. He said: "I heard a scream, and then we went to the park and I saw a girl lying on the floor with blood coming from her back. Another girl had blood on her arm." The two women were with two men who were shouting "tio lo vi todo" in Spanish, meaning "I saw everything".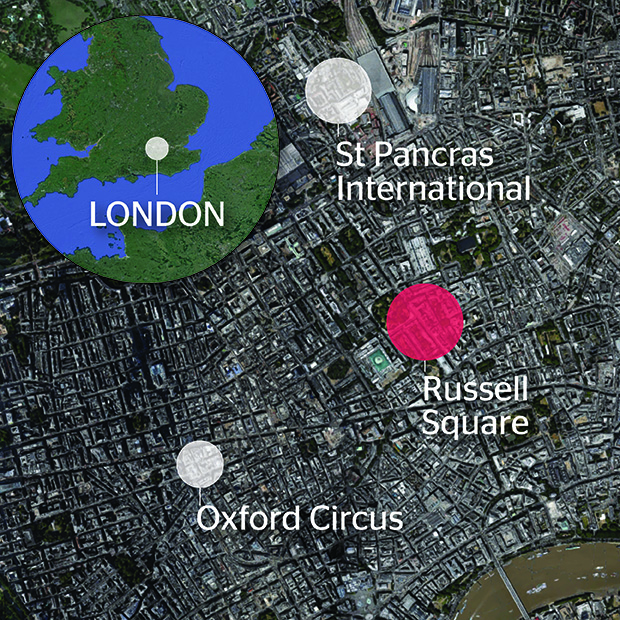 The witness added: "They all spoke Spanish so I guess they were a group. I only saw the victim and the girl with the arm stabbed from that group "I just saw blood just next to her. She was lying on the floor with a friend hugging her." Paul Hutchinson, a taxi driver, said he passed the incident shortly after it occurred. He said: "I drove past Russell Square and the road wasn't shut but the pavement was all taped off by police, lots of armed police, lots of cars and the body was just lying on the floor. You could see the boots sticking out from under the cloth. "Loads of armed police, cars with lights on and the body on the floor." A 35-year-old man, who did not wish to be named, said he saw three men fleeing nearby Queen Square shortly after the incident. 'One man fled on a motorcycle heading down a pedestrianised area,' he said. 'He obviously looked in a hurry.' Meanwhile, a guest at the Imperial Hotel said he saw a man lying on the ground. He told MailOnline: "There was all sorts of commotion going on. I didn't think it was anything serious at first, but perhaps it's more sinister." He added that guests at the hotel have been asked to enter through the rear entrance as the front is cordoned off by police. Other witnesses took to Twitter to share news of the attack. Abdulrahman Muammar wrote: "#London Russell Square locked down & surrounded with police officers. Many police cars & ambulances." Helen Edwards tweeted: "#Police guarding cordon around #russellsquare #bedfordplace #southamptonrow. Saw armed police & paramedics earlier. I saw armed police guarding the cordon around Russell Square plus ambulance at other end of Bedford place." Meanwhile, Lauren Brittny said: "Sadly my brother and his mates witnessed the stabbing in Russell Square. And the police obviously arrived too late. My brother rang me at time as he was in shock. But all he said was the man quickly jogged passed him. "My brother was at UCL summer camp and they were returning from a theatre trip . His mentors were guarding them so he was unable to do much I wish he filmed the guy. But everyone was stunned by the situation. "My brother said the woman was surrounded with her friend he suspected they were on a Hen night.' Scotland Yard confirmed the incident is being treated as a possible terror offence. The Met said one suspect was detained after being Tasered at the scene of the incident - opposite the three-star Imperial Hotel and near a quiet park. A spokesman said: "Police were called at 10.33pm to reports of a man seen in possession of a knife injuring people at Russell Square, WC1.
#BREAKING We have spoken to witnesses of Russell Square London knife attack #russellsquare https://t.co/NUx0K41HRw pic.twitter.com/PXQyD2zeFD

— Daily Star (@Daily_Star) August 4, 2016
"Officers attended the scene along with the London Ambulance Service. "Up to six people were found injured at the location. "A female was treated at the scene but was pronounced dead a short time later. 'We await an update on the condition of the other persons injured and details of any other injuries." An MFAT spokesperson said they are aware of the stabbing in Russell Square, but information about the incident has been limited because it is the middle of the night in London. "At this stage we have received no information to suggest that New Zealanders may have been affected by the incident." Police added that the man was arrested at the scene six minutes after the incident. The spokesman added: "A man was arrested at 10.39pm and a Taser was discharged by one of the arresting officers. "Terrorism is one possibility being explored at this stage." Additional police units have been deployed to the area to provide reassurance. Extra patrols will also be carried out in the area near the British Museum in Bloomsbury.