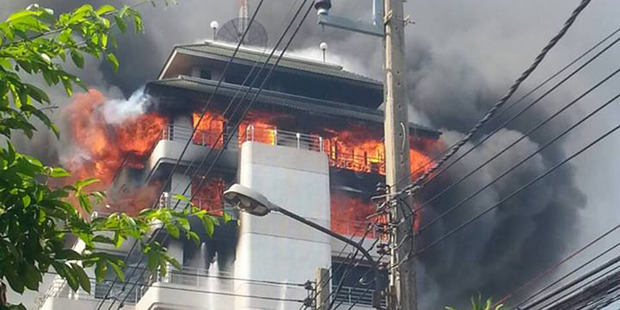 People are trapped in a burning high-rise building in Bangkok, Thailand where it is believed at least one person has already died.
Local newspaper the Bangkok Post is reporting that the fire is in a 10-storey building in Bangkok's Yannawa district and that the blaze broke out on the eighth floor about 10.30am local time (4.30pm NZT).
1 thought dead, others trapped in Bangkok high-rise fire https://t.co/nLMuTM59EL pic.twitter.com/tsd80Ge4RO

— Bangkok Post (@BangkokPostNews) February 5, 2016
The paper said the fire spread quickly to upper storeys while firemen rushed to the scene near the Chan intersection of the capital.
Other reports say the building is a condo on Narathiwat Rd.
Photos have been shared on Twitter showing the building up in flames.
Condo on fire in Narathiwat Rd. Soi 18, Bangkok. Casualties reported. #Thailand https://t.co/QCkc5N8K7o

— Steve Herman (@W7VOA) February 5, 2016
Six fire trucks and two ladder trucks were sent to the scene and there were reports that the body of a dead woman was seen on the seventh floor.
Firefighters were still unable to reach her due to the fire, the Bangkok Post said.
Meanwhile, Police fear more people may be trapped in the building's sixth to eighth floors.
???? 1 ??????? ???????? ??????????? ??? 10 ???? ???????? 18 #FM91 [?????????????] https://t.co/Xr0EJX3LUq pic.twitter.com/jtpC6YvZKA

— FM91 (@fm91trafficpro) February 5, 2016
Police and rescue workers are trying to reach them.
The Bangkok Post are reporting that the burning building is the home of family and relatives of Vikrom Aisiri, a former Democrat MP and owner of Phuket Air - an airline based in Bangkok.