Up to 80 Yazidis have been reported killed by Isis (Islamic State) fighters in the biggest massacre so far of the Iraqi minority.
Kurdish and Yazidi sources reported that dozens of people in Kocho village, about 25km from Sinjar city, had been summarily executed after refusing to convert to Islam.
As the men were rounded up and shot, several hundred women and children were reportedly taken hostage.
Hoshyar Zebari, a senior Iraqi official who said he had spoken to witnesses, said the jihadists had "committed a massacre".
Halgurd Hekmat, a spokesman for Kurdish security forces, said the jihadists took the women and children of Kocho to Tal Afar, one of the towns and villages they have captured in the Yazidi heartland province of Sinjar.
The reports could not be independently confirmed. But US Central Command said it had received similar claims, shortly before announcing drone strikes which destroyed two armed Isis vehicles south of Sinjar city.
Since seizing Sinjar city this month, Isis fighters, backed by sympathising Arab tribesmen, have roamed the desert terrain, kidnapping and reportedly killing hundreds of Yazidis.
As many as 150,000 residents of Sinjar province escaped to the region's mountain this month. Their only route to safer parts of northern Iraq took them on a gruelling trek across the mountain range.
Those who were not able to flee, human rights groups believe, have become the victims of a targeted campaign of ethnic cleansing by Isis.
"The treatment of the Yazidis by the Islamic State has been markedly worse than that of other religious minority groups in Iraq," said Joe Stork, a senior researcher with Human Rights Watch.
The fear of an impending genocide against the Yazidi minority was one of the reasons Washington cited for air strikes it began on August 8.
The US appeared to be stepping up its military offensive in Iraq yesterday, when air strikes pounded the area around the Mosul dam, Iraq's largest.
NBC News said US fighters and drones were involved, and that they were providing air cover to Iraqi and Kurdish troops on the ground. Kurdish forces prevented journalists from reaching the scene yesterday, with some sources speculating that a small number of US special forces were on the ground to call in the air strikes and did not want to be seen publicly.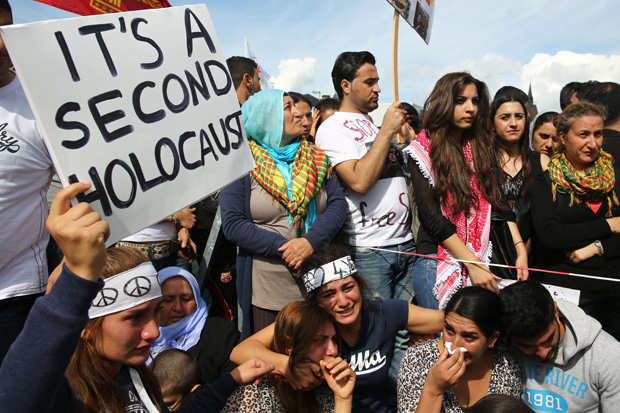 Yezidi people stage a demonstration, led by Europe Yezidis Federation and supported by many institutions and political parties, to protest the Islamic State, abbreviated as IS,-led terrorist groups' attacks against Yezidis living in Iraq. Photo / Getty Images
Located on the River Tigris about 50km upstream from the city of Mosul, the dam controls the water and power supply to a large surrounding area.
Villagers in areas surrounding the Mosul dam said the jihadists had cut off their water supply during the past few weeks.
The initial reason given for the start of US air strikes in Iraq was defensive, justified as the protection of ethnic minorities coming under attack by Isis.
Yesterday's operations, conducted by FA-18 fighter bombers and drones, however, were the first concerted military offensive conducted by the US in Iraq since pulling its troops out in 2011.
The air strikes came as more Western nations pledged to join the fight against Isis. EU ministers agreed at an emergency meeting in Brussels to back weapons deliveries to Iraqi Kurdish fighters who have been battling to halt the advance of the well-armed jihadists.
Worshippers of Peacock Angel
Yazidis practice a religion which the extremist Sunni jihadists have interpreted as "devil worshipping" and which, in the jihadists' eyes, makes their humanity void.
The semi-deity worshipped by the Yazidis, known as Malek Tawwus, or the Peacock Angel, can easily be identified with Satan - the Peacock Angel, like Lucifer, fell from grace, but in the Yazidis' eyes was pardoned and restored to glory. And so, to the Yazidis' enemies, Malek Tawwus is Satan, and, for Isis jihadis, that means they can be killed with impunity. Far from being devil worshippers, they find even the mention of the word "Satan" so offensive that Iraqis used to warn visitors to their villages in the Sinjar region not to say it.
Read more
*Islamic State fighters in Iraq putting Yazidi women to a bleak choice
While many in the Middle East see the ethnically Kurdish Yazidis as a breakaway sect from Islam or Christianity, it is a separate, pre-existing religion with its own belief system. Yazidis do not believe in heaven or hell, but in reincarnation, which they call the soul "changing its clothes". They never wear the colour blue. They are not allowed to eat lettuce. Many of the men wear their hair in long plaits, while others keep wildly thick, untrimmed moustaches.
They practise a form of institutionalised elopement, where a man must "kidnap" his bride with her consent, but without her parents' knowledge. They believe one of their holy books, the Black Book, was stolen by the British in colonial times and is kept somewhere in London. They have kept their religion alive through the Talkers - Yazidi men who are taught the entire text of the missing book by heart as children and pass it on to their sons in turn.
On the battlefront
*The US military has confirmed it conducted nine airstrikes near Erbil and Iraq's largest dam in an effort to help Kurdish forces retake it from Isis.
*Fighter jets and drones have destroyed or damaged four armoured personnel carriers, seven armed vehicles, two Humvees and an armoured vehicle.
*Peshmerga forces lost control of Mosul dam on the Tigris River on August 7. It provides electricity to much of the region and is crucial to irrigation in vast farming areas in Nineveh province.
- additional reporting AFP