Blast killing Hamas commander signals escalation of stand-off between Israel and its neighbours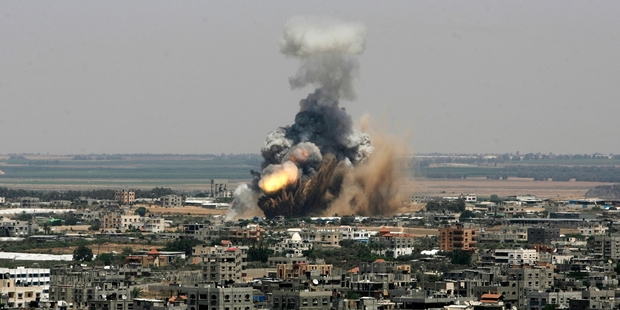 It was at the corner of Wehada St that the missile hit Mohammed Shaaban's car - and almost certainly propelled Israel's phoney war with Hamas into an all-out conflict.
Shaaban, a senior commander in the Islamist movement's military wing, was killed with three other occupants in the precise strike that sent his vehicle's entrails flying in all directions.
The charred debris of metal, rubber and blood covered much of Gaza City's Shabia crossroads.
On a billboard opposite was a large poster of Ahmed al-Jabari, another Hamas commander, whose targeted killing by Israel was the trigger for the last war in 2012 - one that left about 170 Palestinians and six Israelis dead.
Yet there was little respite for those watching from the sidelines to reflect upon that potential omen.
As a clean-up team cleared away the wreckage, three more blasts - one after the other - sent the curious crowd of onlookers scattering for cover.
Less than five minutes later, a further two explosions were heard in the nearby Zarqa neighbourhood.
Whether the blasts were caused by an aerial bombardment or artillery fire was unclear. What was obvious was the shattering effect - both in terms of physical destruction, as witnessed by the huge pall of smoke rising above a local mosque, and in the psychological impact on the people.
After the explosions came the wails of the ambulances and the screams of frightened children.
The strikes happened during what was supposed to be a waiting period for Israel, as the country's leaders weighed up the pros and cons of a fresh military onslaught in response to renewed rocket attacks from Gaza.
At the gates of the impoverished coastal enclave, tanks and personnel carriers were gathering for a possible ground invasion, taken to the border in convoys and awaiting the order to re-enter a territory from which Israeli military withdrew nearly a decade ago.
Yet for many in Gaza, the waiting came to abrupt end yesterday as the effects of a new operation code-named Protective Edge made themselves felt with the same devastating intensity seen in Shaaban's killing.
Blasts could be heard all over Gaza. In one apparent air strike, seven people - two of them teenagers - were said to have been killed and a further 25 injured when a missile struck a house in Khan Younis. Israel said Hamas had been using the occupants of the house as human shields.
Sami Abu Zuhri, a Hamas spokesman, called the incident a "horrendous war crime" and said all Israelis were now "legitimate targets for resistance".
By last night, 28 people were said to have been killed in the territory.
For some it may all seem depressingly familiar. Twice since Israel withdrew its troops from Gaza in 2005, with several thousand Jewish settlers, it has become embroiled in protracted military conflicts there - once in late 2008 in a mission, Operation Cast Lead, during which 1417 Palestinians and 13 Israelis died, and again in 2012.
Each time, the pretext has been the same - an increasing barrage of rockets from Gaza fired towards Israeli towns and cities that make life fearful and miserable for their inhabitants.
This time, the backdrop is linked with events in the relatively far-off West Bank and East Jerusalem. On June 12, three Jewish teenagers were abducted and later found murdered in the West Bank. Israel has blamed the crime on two Hamas members and has taken action against the Islamists' West Bank network.
Then Mohammed Abu Khdeir, 16, a Palestinian from East Jerusalem, was murdered in what the authorities have concluded was probably a revenge killing for the deaths of the teenagers.
Now Gaza has reasserted itself as the central arena. The turning point was the decision by Hamas to get involved directly in the firing of rockets, having previously left it to smaller factions. It was the first time it had done so since the ceasefire ending the 2012 war.
About 160 missiles have been fired in Israel's direction, prompting officials to order all bomb shelters open within a 40km radius of Gaza and the closing of all children's summer camps.
Israeli Prime Minister Benjamin Netanyahu, having initially voiced reluctance to rush into a new conflict with Hamas, ordered commanders to prepare for a "thorough, long, continuous and strong campaign". Some 40,000 reservists have been called up.
Yesterday some in Gaza professed a readiness to face the onslaught.
In Gaza City's Shifa hospital, Bashir Abu Tawileh, 48, used tissues to wipe blood from the face of his 16-year-old son, Mohammed, after a missile landed on open ground near his home.
"I want things to escalate further because we are under fire here," said Abu Tawileh. "All of Gaza is Hamas. Do you think they are going to dismantle the whole of Gaza?"
Ahmed Arafat, 33, was blunter still. "I want the resistance to hit Tel Aviv and other Israeli cities. We need suicide bombings inside Israel because the Israelis are hitting civilians and killing children."