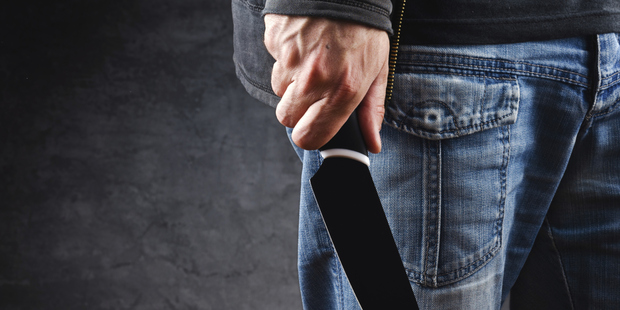 Horrified onlookers watched as a man stabbed another man to death in a crowded Sydney shopping centre and left the knife lodged in the victim's chest.
Dozens of shoppers, including families and children out on a busy school holiday shopping day, were shockedto witness what police are describing as a targeted attack. A 33-year-old man approached another man outside the Myer store on level four of the Westfield mall in Parramatta and an argument broke out, police say.
A witness who saw the attack from level five said the attacker taunted police officers at the scene while repeatedly stabbing his victim with a large knife.
"He kept plunging the knife in his chest, in and out, and paced up and down the shopping centre screaming at police," he said, adding that the victim was stabbed three to four times.
"He taunted the police, saying 'what are you scared of?'."
The man eventually left the knife in the man's chest before police moved in to arrest him. The witness said the knife looked to be about 30cm long and the ordeal lasted about 20 minutes.
"Everyone was very scared and begging for somebody to stop the attack," he said. "There was blood every-where."
After the stabbing, the alleged attacker took off his shirt, lit a cigarette and started talking on his mobile phone.
He was taken to Parramatta police station and was expected to be charged.
Acting superintendent Jennifer Scholz said police were investigating whether the fight was over a former girlfriend of the attacker.
She said the attack was targeted, a "one-off and not bikie-related", and the two men were "connected".
Witnesses said several police tasered the shirtless man, who had a large tattoo on his back, according to Macquarie Radio. But Scholz said police drew their Tasers but didn't fire.
"There's no need for anybody to be concerned in regards to their safety," she told reporters, praising the quick response of the mall's security staff, who closed off the area.
Shops near the stabbing incident were put in lockdown.
A woman who saw the attack was treated by emergency staff for shock.
Westfield is providing counselling services for employees, retailers and customers.
Next story: Schoolboy dragged to death by polar bear
- AAP