Clive Palmer wields unexpected power and has found an unlikely ally in his fight against Tony Abbott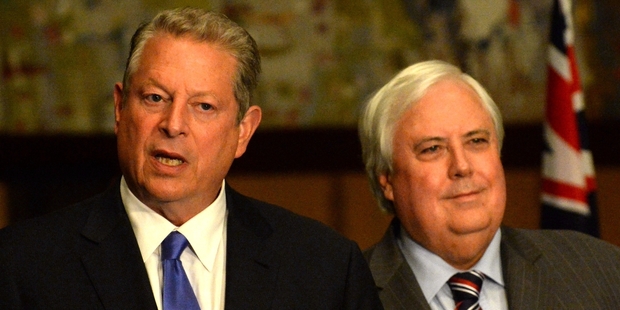 Odd couple barely does them justice. One is the planet's most celebrated climate warrior, the other a mining baron who plans to export enough coal to turn Asian skies black.
Which begs the question: why on earth would Al Gore prop up Clive Palmer's bid to axe Australia's carbon tax, delivering the most cherished goal of that other rusted-on fossil fuel lover, Tony Abbott?
And prop is the appropriate word. The man who once came within a few votes of being the world's most powerful looked like an ill-chosen cardboard cut-out alongside the maverick billionaire turned MP who now holds all the aces in Canberra.
Palmer, best known outside Australia for wanting to build a replica of the Titanic, has turned politics in his home country on its head. He set up the self-titled Palmer United Party to seize on public disenchantment with Julia Gillard's Labor government and a lack of love for the alternative led by Abbott.
When the new Senate starts work next week it will include three PUP representatives and another minor party senator who have agreed to vote as a bloc, effectively making Big Clive a one-man balance-of-power.
Palmer was so successful at last year's federal election that he himself won a Lower House seat. And he's been lording it over the main parties ever since.
On Wednesday the unlikely figure of Gore parachuted into that backdrop; parachuted being a euphemism for flying into Canberra on one of Palmer's private jets - and racking up more than an average household's annual carbon emissions in the process.
Contradictions may abound in the climate debate, but rarely so pronounced as the joint press conference held in the Australian Parliament's Grand Hall.
Here was the respected Nobel laureate sharing a platform - and lending undreamed of credibility - to a coal and iron ore baron climate sceptic whose businesses are built on the causes of global warming. And doing so as Palmer effectively gave the green light to a nation, for the first time, scrapping its price on carbon.
"The inconvenient truth here is that Gore looked and sounded like a right mug," noted former Labor Party kingmaker Graham Richardson in the Australian newspaper yesterday.
Not surprisingly, it's a perception that reportedly prompted last-minute doubts from Gore about appearing.
But there was method behind his apparent madness.
In recent months Gore has been upbeat over "meaningful" moves in the United States, China and India to reduce carbon emissions and embrace renewable energy.
He sees momentum building for a potential global agreement at next year's climate summit in Paris.
Bitterly opposed to any international accord involving carbon pricing or emissions trading are the coal, oil and gas industries most at threat from a market-driven shift to clean energy.
And fighting for those entrenched interests are right-wing Prime Ministers like Abbott and Canada's Stephen Harper, who want their countries' lucrative coal and tar sands exports to continue unimpeded. In Australia, the Coalition Government wants to not only scrap the carbon tax, but also a host of programmes, initiatives and targets designed to support the growth of the A$20 billion ($21.5 billion) renewables sector.
Gore viewed their abandonment as an appalling precedent that would be seized upon by climate sceptics around the world.
He bemoaned the ongoing "political struggle" during a presentation to would-be community evangelists attending his "Climate Reality" training in Melbourne this week.
"Even though there may not be a single decisive point, there are crucial periods in which decisions are shaped," Gore told them. "And we are in one of those periods right now." When it came to blocking the Australian moves, Palmer was the wrong man, but in the right place at the right time.
Before meeting Gore, the eccentric but undeniably shrewd businessman dismissed climate change as part of the natural cycle. He wondered aloud on the focus over the 3 per cent of carbon generated by humans rather than the 97 per cent by nature.
But Palmer, a showman who crafted his communication skills as media adviser to notorious Queensland Premier Joh Bjelke-Petersen, is now positioning himself as the consummate climate convert.
"[Gore] was able to enlighten me on a number of aspects about climate change which I wasn't fully familiar with," he told one incredulous TV interviewer.
The talks, brokered behind the scenes by a group of political players and powerbrokers, will likely save Australia's target to produce 20 per cent of domestic electricity from renewables by 2020, a profit-making government "green bank" and the independent Climate Change Authority.
That's a big win for a renewables sector racked by fear and uncertainty.
But the carbon tax is almost certain to be scrapped. It had been due to evolve into an emissions trading scheme next year. Palmer's suggested alternative - with a price set at zero until trading partners establish similar schemes - has prompted the same level of scepticism as the Government's Direct Action programme that he has also pledged to oppose.
Which leaves Australia facing the prospect of having no carbon abatement measures in place.
Basking in the reflected glow of Gore's endorsement, the new climate disciple remains free to push ahead with vast coal export plans.
Gore said he was "disappointed" by the likely repeal of the carbon tax.
"This is a case where we don't have a perfect outcome for the climate," activist Don Henry, who helped get the two men together, told the ABC. "But we've got a good outcome." Palmer has also wrong-footed the Prime Minister.
The tax might be axed but Abbott's climate policies are in turmoil, and more than ever, he knows the unpredictable Queenslander stands in his way of getting anything done.