Leader clinging to power even though his expensive army has failed him, Isis rebels are continuing to make gains and he is being cited as the biggest single obstacle to peace between Shia and Sunni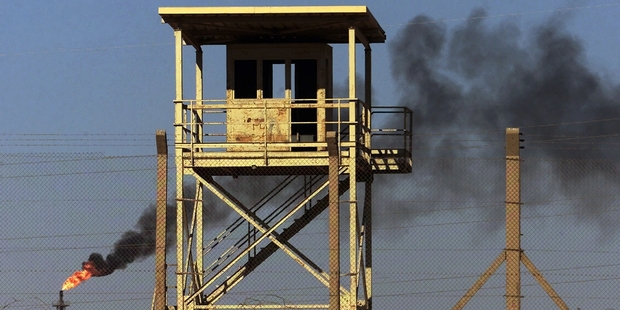 The US has told senior Iraqi officials that their Prime Minister, Nouri al-Maliki, must leave office if it is to intervene militarily to stop the advance of Sunni extremists.
Sunnis see Maliki as the main architect of their oppression, and the Americans believe there can be no reconciliation between Sunni and Shia unless he ceases to be leader of the country.
Maliki is showing every sign of wanting to cling to power despite the disasters of the past 10 days during which his 350,000-man army, on which Iraq has spent US$41.6 billion ($47.76 billion) since 2011, has disintegrated after being attacked by a far less numerous foe.
He has blamed Saudi Arabia, the Kurds and treacherous generals, but has given no real explanation or taken responsibility for the defeat.
Maliki was effectively appointed by the US in 2006, but is today seen as being under the influence of Iran.
Iranian leaders are divided on whether or not to withdraw support from Maliki and see Shia dominance and Iranian power in Iraq diluted.
Iranian commanders have taken over central direction of the Iraqi Army, but Iraqi politicians do not believe Iran has a coherent plan to rescue the Baghdad Government.
Iranian President Hassan Rouhani said yesterday that "the great Iranian nation will not hesitate to defend the holy [Shia] shrines".
These are at Samarra in the front line, al-Kadhimiya in Baghdad and Najaf and Karbala further south.
The most effective form of US military support would be air strikes on the Islamic State of Iraq and the Levant (Isis) fighters.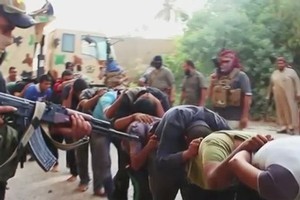 Drones would be largely useless against an elusive and lightly armed enemy, though US air strikes of any type would raise the morale of the Iraqi military and the Shia population.
There is a constitutional way of getting rid of Maliki when the Iraqi Parliament meets this month.
It must chose a speaker and a president, who will then ask a member of the largest party to form a government. It is unlikely Maliki would be chosen Prime Minister as other parties unite against him.
"It is impossible that he should serve a third term," said an Iraq politician who did not want to be named.
But parliamentary procedures may be too slow to remove Maliki and set up a new Iraqi leadership capable of withstanding an uprising by Iraq's five or six million Sunni population, led by Isis but including seven or eight other armed groups.
The pace of the Isis advance has slowed north of Baghdad in recent days, but it is still capturing Sunni towns and villages where much of the armed male population joins it.
The original force of Isis fighters, sometimes put at 10,000 men, is thereby multiplied many times.
This has happened in the Sunni town of Hibhib near Baqouba, which is 60km northeast of Baghdad, over the past two days.
A local woman speaking by phone said: "Less than 100 Daesh [Isis] came into the town and soon became more than 2000 armed men. Even teenagers aged 14 and 15 are carrying rifles and setting up checkpoints."
Isis now controls almost all the Euphrates valley from Fallujah west of Baghdad through western Iraq and eastern Syria to the Turkish border.
Any long-term campaign by the Iraqi Government, backed by US air power, against Isis would require air strikes in Syria as well as Iraq. The two countries have effectively become a single battlefield.
The success or failure of the US and Maliki's domestic opponents in replacing him will be crucial in determining the future of the conflict.
A chief reason Isis, Sunni armed groups and the Sunni population have been able to form a loose common front against the Government is the antipathy of the Sunni population to Maliki. They see him as reducing them to second-class citizens and putting as many as 100,000 in jail.
Hostility to Maliki is part of the glue holding the Sunni coalition together.
But the Iraqi Government's problems are immediate and require intelligent leadership, which continues to be lacking.
This was shown in Mosul last week where two senior generals took off their uniforms and fled to Erbil, the capital of the Kurdistan regional government's semi-independent zone. Overall, around 230,000 soldiers are reported to have deserted their units.
Maliki continues to make many military decisions himself. Iraqi sources say that just before Isis stormed Tal Afar, a Shia Turkoman city of 300,000 west of Mosul, last weekend, Kurdish President Masoud Barzani sent a message to Maliki offering to send peshmerga (Kurdish soldiers) to defend it. Maliki rejected the proposal, Peshmerga in Tal Afar were withdrawn and Isis took over.
Unless it is too over-extended to make further advances, Isis may think it in its interests to strike quickly at Baghdad before the US and Iran decide what to do and while the leadership in Baghdad is in turmoil.
The Shia are the majority in the capital, but Sunni enclaves in west Baghdad might rise up.
Living conditions all over northern and central Iraq will become more difficult as the economic unity of the country is broken. Baghdadis mostly cook on bottled propane gas, but this can no longer be supplied from Kirkuk because Isis has cut the road.
Maliki's best chance of staving off calls for his departure is that the threat to Baghdad will get so severe that Washington and Tehran will have to give support even if he stays.
But although everything that has gone wrong in Iraq is his fault, his responsibility for the present catastrophe is too great for him to play a positive role in averting a sectarian civil war.
- Independent