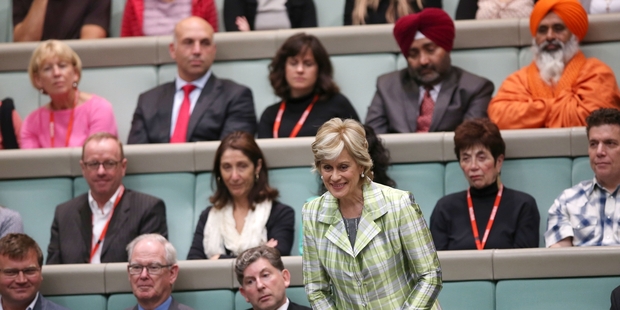 Unlike billionaire MP Clive Palmer earlier this week, Dame Kiri Te Kanawa at least succeeded in staying awake in the Australian Parliament yesterday - although the arcane details of dole eligibility, pension indexation and family tax benefits may have tested her to the limit.
One of the few Kiwi exports that Australia has not tried to poach, Dame Kiri popped in for Question Time in Canberra, where she was introduced by a beaming Bronwyn Bishop - the Speaker is a big opera fan - and performed an elegant bow from the public gallery.
Other spectators and, no doubt, a sizeable number of politicians then froze in horror as the Treasurer, Joe Hockey, announced: "I'm going to endeavour to sing a wonderful tune ... about our infrastructure commitment." Fortunately for everyone present, Hockey, who had waved regally at Dame Kiri as he entered the chamber, was joking. About the singing, at least.
Earlier, Dame Kiri, who is in Australia for a 70th birthday gala tour, had been hosted by Bishop at a lunchtime reception where the famed soprano chatted about her recent role as Nellie Melba in Downton Abbey, saying it had been "a lovely experience" but that she did not envisage a change of career.
"It's quite specialised, and they [the TV actors] study intensely," she said. "I've studied a different area - I'd have to retrain." As for her future plans, she made clear she intends to carry on singing. "Retirement is not a word we use."
Dame Kiri, who has performed to packed houses in Perth and Melbourne, said she was delighted to be welcomed by federal politicians - the first time any parliament has extended such an honour to her.
In the House of Representatives, the soprano provided a rare light moment in an afternoon dominated by this week's Budget.
Many of those present were probably hoping she would break into a rendition of Dove sono i bei momenti (from the Marriage of Figaro), sparing them from having to listen to Hockey.