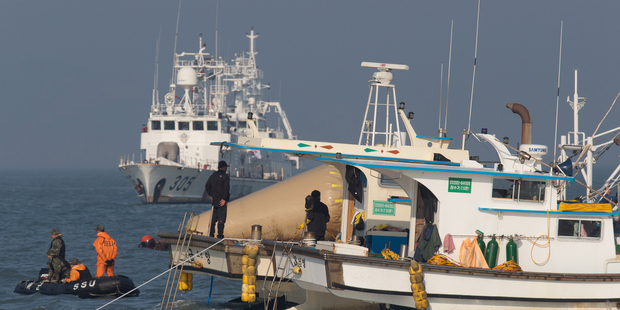 Footage has emerged from inside the doomed South Korean ferry Sewol moments before it capsized, showing students panicking as the ship started to list badly.
The mobile phone video was released by the father of Park Su Hyeon, 17, whose body was recovered from the vessel by coastguard rescuers.
"Am I really going to die?" a student asks at 8.53am local time on April 16, less than two minutes into the video and two minutes before a crew member on the bridge made the ferry's first distress call.
Students ask whether the ship will sink and where their teachers are. "What's the captain doing?"
Several times they are warned over the loudspeaker to stay where they are, even as the tilting increases and it becomes less possible for them to flee.
The tragedy, which has left more than 300 people dead or missing, has created a sense of national mourning, anger and shame.
About 220 bodies, mostly from inside the submerged vessel, have been recovered so far. More than 80 per cent of the victims were students from one school in Ansan, south of Seoul, on their way to the southern tourist island of Jeju for a school trip.
At the end of the footage one child can be heard saying: "This looks like the end."
- Independent