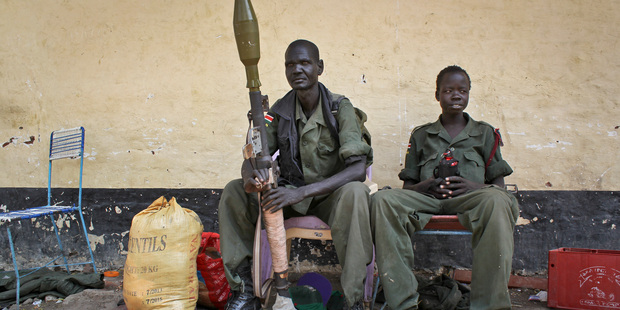 Hundreds of civilians, including women and children, have been massacred by rebels who seized an oil-rich town in South Sudan, the United Nations said.
Armed men, believed to be loyal to the former vice-president Riek Machar, swept into Bentiu and systematically shot dead foreigners and people from enemy tribes.
The exact number of people who died is unclear, but at least 200 were killed in the Kali-Ballee mosque in the capital of Unity state, and 400 wounded, the UN Mission in South Sudan said in a statement.
Mr Machar was sacked by President Salva Kiir last July and has been accused of spreading violence and plotting coups.
Read more:
• Attack on UN base in South Sudan kills 58
• The 10 most brutal places in the world
His Nuer people are traditional rivals for power with Mr Kiir's Dinkas and he accuses the president of sidelining his tribesmen. He has said he would oppose Mr Kiir at the next election in South Sudan, which gained independence in 2011.
Toby Lanzer, who heads the UN's humanitarian mission, said what he had witnessed was "beyond description", describing "a never-ending stream of spots where people have been executed, very deliberately targeted".
Amanda Weyler, a UN aid worker, described "nightmarish scenes" with "scores of bodies" still scattered on the streets after visiting yesterday.
The UN statement said that some rebels took to local radio to "broadcast hate messages declaring that certain ethnic groups should not stay in Bentiu, and even calling on men from one community to commit vengeful sexual violence against women from another community".
Bentiu is the first major settlement to have been retaken in a renewed offensive by Mr Machar's forces, with the rebels yesterday boasting of further villages they had captured in Unity state.
The killings were described as among the most devastating in four months of on-off fighting in the world's newest nation. The UN mission said the killings took place over two days last week, on April 15 and 16, but details of the massacres emerged only yesterday after a UN human rights investigation team visited.