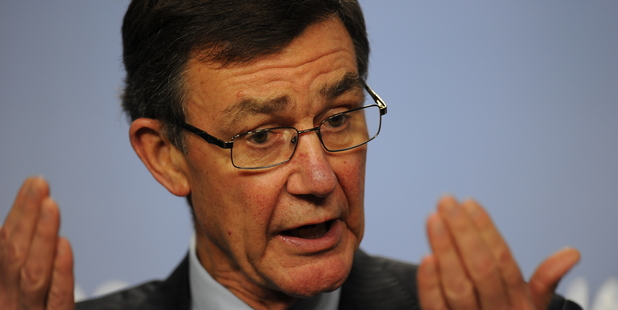 The task has been described as impossible and only a week ago the world's media were mournfully saying the wreckage of the doomed Malaysia Airlines flight MH370 "may never be found".
That may still turn out to be the case: the deadline for the expiry of the batteries of the Boeing 777's black box has long passed and it is more than five days since the last faint "ping" was picked up from the sea nearly 1600 kilometres north-west of Perth. Today, in the absence of further sonic clues, a Blue-fin 21 underwater drone was sent to explore the depths, a day after an aborted attempt the day before.
So if the tone of despair has lifted from this most challenging of searches, it is only partly because the search is now confined to a relatively manageable area of ocean. It is at least equally to do with the character of the man who two weeks ago was appointed to head its co-ordination centre: the retired Australian defence chief Angus Houston.
Read more:
• How can an airliner fly under the radar?
• Plane 'thrown around like a fighter jet'
• Black box: What can it tell us
His job includes: co-ordinating search teams from seven countries, including China, Japan and Korea; deciding the clues to follow up and the means to adopt; informing and reassuring relatives of the 239 people on the stricken flight; and managing a media monster that is always poised to pounce on signs of incompetence or confusion.


Photo / Australian Defence Force/AP
The fact that he has so far fulfilled these urgent and conflicting requirements to the satisfaction of all concerned confirms that, as one Australian paper put it earlier this week, his selection for the job by Prime Minister Tony Abbott "was an inspired one".
A hero for unheroic times, this wiry, softly spoken 66-year-old, who emigrated from Britain in the late 1960s as a "one-pound Pom", comes trailing clouds of glory from a career in which he proved his valour in theatres as varied as the jungles of Papua New Guinea, the wild seas around Australia's coast and hearings of the Senate, at which he fearlessly exposed the MP Peter Reith as a liar.
Watch: Two more pings heard from Indian Ocean

Rejected by Britain's RAF because he was too tall, he worked as a sharecropper in western Australia for two years before somehow shrinking sufficiently to qualify for acceptance by the Australian equivalent. Spending years doing survey work in Iroquois helicopters over Papua New Guinea, he was often called upon to find aircraft that had crashed in the jungle.
During a three-year exchange in Utah the same skills were called on to find light planes that had frozen, stalled and crashed in the Rockies. "I've spent a lot of time looking for downed aircraft in very demanding conditions," is how he puts it now - though that was by no means his only qualification for his latest job.
Watch: Signals come from black box

The achievement that has perhaps remained longest in the memory of Australians is of the way he defied his political masters and risked his career in the 2001 election campaign. Mr Reith, who was then Defence Minister, had claimed that asylum-seekers threw children overboard in an attempt to ensure their rescue by the Navy. Mr Houston discovered this was a lie.
That fearlessness before his political masters was echoed this week when he contradicted Mr Abbott's claim about a fifth black-box "ping". That signal, detected on Thursday, "was not related to flight MH370", he said. And quenching the optimism expressed by the premier on an official visit to China, he insisted: "There has been no major breakthrough in the search."
One final attribute - brought into play by Mr Houston when he consoled the families of the 40 Australian fighters killed in Afghanistan - is compassion. And it is this that makes him the ideal person to head a search which is bound to result in yet more heartache.
"We have got to find this aircraft," he said at the weekend, "because we need to know what happened, but the principal reason we need to find it is for the 239 families."
- UK Independent