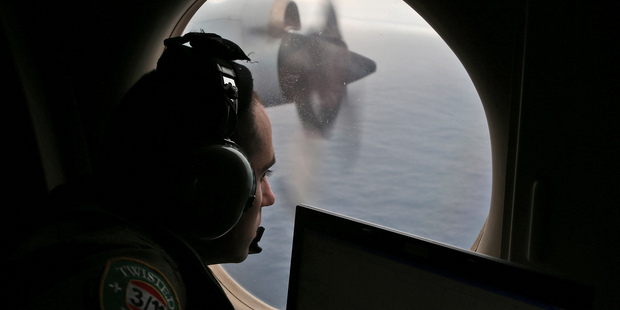 Unmanned underwater vehicles will be deployed in the search for the missing Malaysia Airlines jet only when another acoustic signal is detected, authorities say.
Two sets of possible black box pings picked up by the Australian vessel Ocean Shield in the southern Indian Ocean - one that was held for two hours and 20 minutes and another for 13 minutes - remain the best lead so far.
Search co-ordinator Angus Houston said no more signals had been detected since those announced on Monday.
Watch: Ships search for missing plane's signals

But the former Defence Force chief said strenuous attempts to pick up more would continue until there was no doubt the black box beacon's battery, now two days past its 30-day life, had run out. Batteries often lasted several days longer, so there was still hope, he said.
"Until we stop the pinger search, we will not deploy the submersible ... unless we find another transmission," he said in Perth yesterday.
Read more:
• Black box signals picked up
• MH370 'may have flown around Indonesia to avoid detection'
"If we can get more transmissions, we can get a better fix on the ocean floor, which will enable a much more narrowly focused visual search for wreckage. If we go down there now and do a visual search, it will take many, many days because it's very slow, very painstaking work to scour the ocean floor."
He said some of the false acoustic leads that had been discounted had come from a search ship which "got its own transmissions back again".
A final unexplained signal emitted by Flight MH370 was reportedly tracked to the same point in the Indian Ocean where authorities believe the jet is most likely tobe.


A candlelight vigil for the missing passengers in Beijing. Photo / AP
The aircraft is believed to have run out of fuel and then experienced a last jolt of power that triggered an incomplete satellite handshake before entering the water.
In such a scenario, the plane would be likely to have glided and could have turned upside down - rather than plunging into the water.
Chris McLaughlin, from British satellite company Inmarsat, said the location of the new signals appeared to coincide with the likely site of the aircraft's final mysterious transmission - eight minutes after its last regular hourly handshake.
Watch: Signals found in jet search

"The partial handshake would be the plane running out of fuel and faltering for a moment, so the system went off network and then briefly powered up and had communication with the network."
Stephen Buzdygan, a former British Airways Boeing 777 pilot, said the plane would then have glided into the water and might have rolled on to its back because its engines would have shut down asymmetrically.


Photo / AP
"Without fuel, assuming the crew were unconscious and no one was flying the plane, it would glide."
- AAP