Eldest boy Lachlan returns to take up position as heir apparent to media empire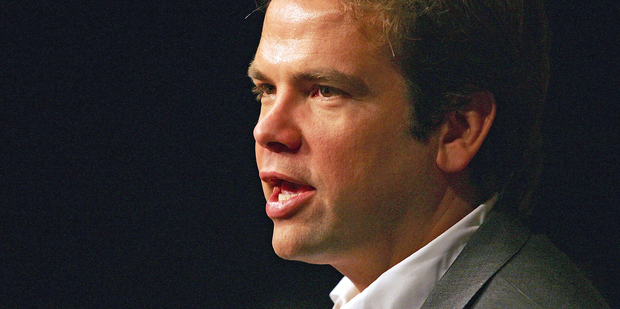 When Lachlan Murdoch went back to work at News Corp last month, finally assuming his position as heir apparent to the family's media empire, he headed not to the company headquarters on the Avenue of the Americas in Manhattan but to the office in Sydney where he lives.
Whereas Rupert Murdoch has been a naturalised American citizen for 30 years, his eldest son, who grew up in New York and was raised as a member of the East Coast upper class, has always felt most at home in the land of his father's birth and upbringing. His half-sister Prue has described him as the "King of Sydney", where he lives in a $25 million mansion with views of the harbour. He has tribal tattoos, which are visible when he rolls up his sleeves, and he likes to cultivate a "cool dude" persona. When he married his wife Sarah O'Hare, an Australian former model, she declared: "I never thought I'd meet anyone more Australian than me."
It was to Australia that Lachlan went when he stunned his father in 2005 by walking out of News Corp, where he held the third-highest position in the company.
"I have to do my own thing. I have to be my own man," was his reported explanation of his decision to step out of his father's shadow.
The news that he was to return to the business as Rupert's co-chairman in both strands of the family business — News Corp and 21st Century Fox — took even close observers of the Murdoch dynasty by surprise.
Lachlan, 42, is once again first in line to succeed Rupert, 83, when he decides the time has come to hand over the reins. It is just what the media mogul has always wanted — but can he be sure that Lachlan will not abandon him again?
The second child from his father's second marriage, to journalist and author Anna Mann, Lachlan was schooled in the culture of the media from childhood. Over family breakfasts, Rupert would open the newspaper and take his son through it page by page, commenting on the stories, headlines and editing. When he was 13, he went on a work placement in a newspaper print room, where he cleaned "all the oil and the grease off the press", as his father proudly recalled to friends quoted by New York magazine.
Rupert saw Lachlan as "the one most interested" among the children, whom he dearly wanted to come into the business. By the time he was 22, freshly graduated from Princeton University, he was sent to work at News Corps Australian newspapers, just as Rupert worked for the Adelaide News at the same age. Lachlan was intensely loyal to his father throughout his early career, happily ending their daily phone conversations with the sign off, "I love you, Dad", even when others were present.
Within three years, Lachlan was running the News Corp business in Australia, a role he performed with considerable success. When he married O'Hare in 1999, his elevation to Australian royalty was complete. The Aussie press, conscious that Rupert was 10,000 miles away, was pleased to have "Lachie" on its patch. He repaid the hospitality by describing Australia as the place "I'm most myself", and tried to resist News Corps change in domicile from Australia to the US.
Although he speaks with an American accent and the hint of a stammer, he peppers his vocabulary with "G'day" and "whinge". According to Rupert Murdoch's biographer, Michael Wolff, Lachlan is "frictionless, affable, constant and easy" to get along with. For some Murdoch acolytes, Wolff claims, the eldest son is "not Murdoch enough".
But in 2000, Rupert summoned Lachlan to New York to become deputy chief operating officer. It was the start of the most difficult period of his life. Whereas in Sydney, Lachlan's straightforward approach had made him a popular figure, in the US he discovered a world of complex corporate politics. The chosen son found himself hemmed in by News Corp old hands Peter Chernin, his Los Angeles-based boss, and Roger Ailes, the head of Fox News, who with his giant ego and his success in trouncing CNN in the ratings, seemed to hold Rupert in thrall. Lachlan was frozen out of News Corp's television business and threw himself into the print world he and his father both loved, reviving the circulation of the tabloid New York Post.
It was not as if Lachlan had not been prepared for competition. His father has always appeared to relish the idea of a succession contest between Lachlan, his brother James (one year younger) and sister Elisabeth (three years senior to Lachlan). As boys, Lachlan and James would compete to do the most pull-ups from the beams of the family holiday home in Aspen, Colorado, until their hands bled. Their mother Anna later pleaded with Rupert to stop feeding the Murdoch succession story in order to end "a lot of heartbreak and hardship for the kids".
In truth, until Lachlan quit News Corp in 2005, it wasn't an even contest. Elisabeth had left the family business to set up Shine TV production company in 2001 and made it a success, something Lachlan will have noted. His confidence faltered and he started to drift apart from his father who had divorced Anna in 1999 to marry Wendi Deng and start a new family. Lachlan's own first son, Kalan, was born in 2004.
Lachlan had always been the dependable one, a political conservative with a crew cut. James was more rebellious, having set up the Rawkus hip-hop label and dropped out of college. Elisabeth married the financier son of a Ghanaian political prisoner at the age of 25, divorced and then married the PR man Matthew Freud.
When Lachlan struck out for himself, James became the new chosen heir, having been a successful chief executive officer of BSkyB.
Back in Australia, the eldest son set up a private investment group called Illyria and went into the television business with James Packer, son of media mogul Kerry Packer, a rival of Murdoch Snr. But Lachlan's stewardship of Ten Network has not been a great success.
James was in charge at News International when the phone-hacking scandal broke, and his handling of the crisis badly damaged his reputation. Lachlan flew to London in 2011 to be at his father's side and shoulder the family's embarrassment. Even so, he told the Australian Financial Review as recently as last June that he had no plans to return to News Corp (at which he retained a place on the board). "No," he said. "No, I've moved on from that."
Since then, Rupert has divorced from his young wife and marked another birthday. His thoughts have turned, once more, to the succession issue.
The story of the returning prodigal son was told around the world. But The Australian, a News Corp flagship title, had a twist. The heir apparent was planning to stay in Sydney, spending no more than one week in four "overseas", it said. In the US, senior Murdoch lieutenants spoke of how they were looking forward to working with Lachlan again. James Murdoch is there in New York and has also been given a promotion. The family succession saga which Anna Murdoch wanted to stop may still not have run its course.
Lachlan Murdoch
• Born: September 8, 1971, in London.
• Family: Second child of Rupert Murdoch and Scottish author Anna Murdoch Mann. Married Australian actress, Sarah O'Hare in 1999. They have two sons.
• Education: Schools in Aspen and New York. Graduated with a philosophy degree from Princeton University.
• Career: Began working in his father's newsrooms in 1989, rising to deputy chief operating officer in 2000. Quit in 2005. Named co-chairman March 2014.

- Independent