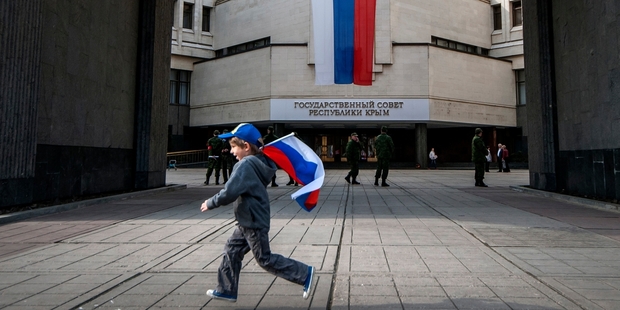 After a rush of emergency meetings to frame its strategy, the West is now scrutinising the impact of a first volley of sanctions against Russia but doubts persist whether Europe will swiftly follow the United States in hiking up the pressure.
Financial monitors say private capital is flowing out of Russia - although the exodus began several months ago - and the economy would be badly hurt if the crisis got worse.
Russian Economy Minister Alexei Ulyukayev said capital flight in January and February was US$35 billion ($40.4 billion), while his deputy, Andrei Klepach, has given figures of US$65-70 billion for January to March. The dollar-denominated RTS stock index has fallen in value by about a fifth, and the ruble by a tenth, since the start of the year. The costs of foreign borrowing are also likely to rise, for the credit ratings agencies Standard & Poor's and Fitch have downgraded Russia's outlook from stable to negative.
The World Bank on Wednesday forecast US$150 billion in capital would exit Russia this year under a "high-risk" scenario of worsening geo-political tensions, and the economy would contract 1.8 per cent.
Under a "low-risk" scenario - in which the crisis is resolved "in a peaceful fashion with some political tension remaining" - capital outflows would be US$85 billion and the economy could grow by 1.1 per cent, the bank said.
The US and the European Union are aligned on taking an escalating but non-military response to Russia's seizure of Crimea, starting with political isolation of the Kremlin and visa bans on Russian President Vladimir Putin's chums.
Washington, though, has stepped ahead with the first sanctions that inflict real pain. It slapped business bans and asset freezes against nearly two dozen Putin allies as well as the "crony bank" Rossiya, the 17th largest bank in Russia. Its customers have been barred from using Visa and Mastercard credit cards.
In theory, Europe has far greater muscle than Washington. "The best way to contain Russia is to submit it to a real economic pressure," Ukraine's interim Prime Minister, Arseniy Yatsenyuk, said pointedly in Brussels last Friday, as he signed the political provisions of a landmark accord with the EU.
It is Russia's biggest trade partner, accounting for 41 per cent of its foreign commerce. According to the Energy Information Administration (EIA), European countries import 84 per cent of Russia's oil exports, and about 76 per cent of its natural gas. From January to November 2013, this gave Russia a surplus of 78.1 billion ($124 billion), according to figures released last month by the official statistics agency Eurostat.
"Russia needs Europe more than the EU needs Russia," British Prime Minister David Cameron observed last week. So far, though, the EU's action has refrained from turning talk of economic sanctions into action - a position that reflects internal differences and vulnerability to Russian energy imports. Last week, it struggled even to add another 12 officials to 21 others on its blacklist.
According to a well-placed source in Brussels, Luxembourg and Cyprus were hesitant, as some of the 12 have stashed assets in their banks.
They are not the only ones who are lukewarm. Britain, for instance, is home to hundreds of Russian companies that have registered in the City of London, and the trickledown effect of Russian investment - through bankers, share dealers, lawyers and even the property market - is keenly felt. Germany, meanwhile, estimates that 300,000 of its jobs are dependent on exports to Russia.
Europe also buys a quarter of its gas from Russia, and some of its members are 100-per cent dependent, through Soviet-era infrastructure and supply agreements. Ending this addiction may be Europe's strongest weapon, but one that may take months or years to implement. A detailed plan for reducing dependency on Russian energy was ordered at last week's EU summit in Brussels and is likely to be ready in June.
Options include boosting the share of home-grown energy, increasing gas imports from North Africa and Norway, initiating shale gas imports from the United States and building pipeline routes to vulnerable eastern states, including Ukraine, that circumvent Russia. Lithuania, which is totally dependent on the Russian state giant Gazprom for its supplies, is developing a floating liquefied natural gas (LNG) gas terminal to diversify its supplies.