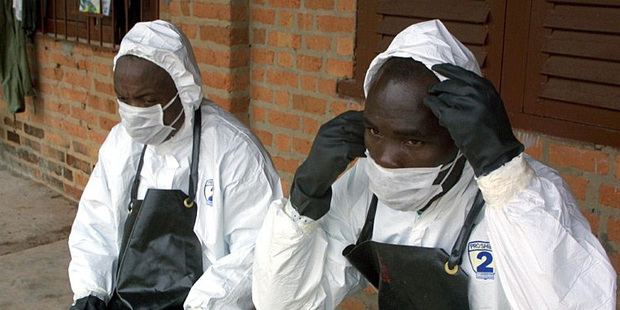 Guinea has confirmed that a disease that has killed almost 60 people in the West African country, and may have spread to neighbouring Sierra Leone, is the haemorrhagic fever Ebola.
Cases of the disease - among the most virulent pathogens known to infect humans, with a fatality rate of up to 90 per cent - have been registered in three south-eastern towns and in the capital Conakry since 9 February, the government revealed. It has never before been recorded in Guinea.
"It is indeed Ebola fever. A laboratory in Lyon [France] confirmed the information," a government spokesman, Damantang Albert Camara, told Reuters news agency.
Six of the 12 samples sent for analysis tested positive, said Dr Sakoba Keita, who heads the epidemics prevention division at Guinea's health ministry. He added that health officials had registered 80 suspected cases of the disease, including 59 deaths.
"But you have to understand that not all the cases are necessarily due to Ebola fever. Some will have other origins," Dr Keita said.
World Health Organisation (WHO) officials said that cases showing similar symptoms, including fever, diarrhoea, vomiting and bleeding, had been reported in Sierra Leone near the Guinea border.
Sierra Leone's chief medical officer, Dr Brima Kargbo, said authorities were investigating the case of a 14-year-old boy who died in the town of Buedu, in the eastern district of Kailahun.
Dr Kargbo said a medical team had been sent to Buedu to test those who came into contact with the teenager.
The international medical charity Médecins Sans Frontières (MSF) announced on Saturday that it was reinforcing its medical and logistics teams in Guinea. It is also flying in 33 tons of medicines and equipment and is setting up isolation units in the three affected towns in Guinea.
"These structures are essential to prevent the spread of the disease, which is highly contagious," said Dr Esther Sterk, MSF's tropical medicine adviser.
Ebola is introduced into the human population through close contact with infected animals, including chimpanzees, gorillas, fruit bats, monkeys, forest antelope and porcupines.
The disease, which is transmitted between humans through contact with organs, blood, secretions, or other bodily fluids, is most commonly found in the Democratic Republic of Congo, Uganda, South Sudan and Gabon.
Though no epidemics have been recorded among humans in West Africa, a variety of Ebola infected a colony of chimpanzees in Ivory Coast's Tai National Park, near the country's border with Liberia, in 1994.
- UK Independent