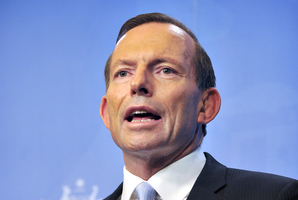 During last year's election campaign, Tony Abbott pledged to change the law under which one of his staunchest supporters, the right-wing columnist Andrew Bolt, was convicted of racial discrimination for accusing nine fair-skinned prominent Australians of claiming to be Aborigines to secure jobs, awards and grants.
Now, under pressure from both sides of the political spectrum, Abbott may be ruing that promise to repeal or water down a piece of legislation that even his mentor and predecessor, John Howard, chose to leave intact.
Conservative Coalition MPs - backed by the right-wing Institute of Public Affairs and commentators including Bolt himself - want the Attorney-General, George Brandis, to scrap a section of the Racial Discrimination Act that makes it illegal to "offend, insult, humiliate or intimidate" a person on grounds of race.
However, ethnic community groups are horrified by that prospect, as are some Coalition politicians. The Liberal MP Ken Wyatt, the first indigenous member of the House of Representatives, has threatened to cross the floor, and Warren Mundine, who heads Abbott's Indigenous Advisory Council, has warned him he is "heading down the wrong track".
Bolt, meanwhile, is fuming over fresh claims of racism, aired by one of Australia's most respected indigenous figures, Marcia Langton. Langton, who spoke out on the ABC TV discussion programme Q&A last week, subsequently apologised to the News Corp columnist for offending him, but added that "his obsessive writing about the colour of the skin of particular Aboriginal people is malicious and cowardly".
The 2011 Federal Court case followed a series of articles and blogs in which Bolt questioned the motives of people who identified themselves as Aboriginal despite having mixed-race heritage. He described the Sydney academic and author Larissa Behrendt as a "professional Aborigine", and observed that the artist Bindi Cole had chosen "the one identity open to her that has political and career clout".
Scandalised by his conviction, Bolt and his supporters denounced the law as an intolerable brake on free speech.
In an address to the Institute of Public Affairs in 2012, Abbott declared that free speech meant "the freedom to write badly and rudely ... the freedom to be obnoxious and objectionable".
Critics, though, note that the provisions now known as the "Bolt laws" have worked well for nearly 20 years, and that Bolt was found guilty not because he exercised his right to free speech but because of factual errors that prevented him from successfully deploying the defence that the articles were written "in good faith".
Brandis is now reportedly considering a compromise that would remove the words "offend" and "insult" from the relevant section, but leave "humiliate" and "intimidate". That has infuriated the institute and conservative soulmates, who want nothing less than repeal.
In the Coalition partyroom, though, the Attorney-General has faced calls for moderation not only from Wyatt but from Philip Ruddock, the veteran Liberal MP and former Howard minister, and Craig Laundy, who holds the ethnically diverse seat of Reid, in Sydney's western suburbs.
Meanwhile, a broad alliance of community groups - representing the Greek, Jewish, Chinese, Arab, Armenian and Korean communities - believes that any change to the law would "license the public humiliation of people because of their race" and "send a signal that people may spout racist abuse in public".
They say it would be "astonishing if an Australian government in the 21st century was prepared to embrace such a morally repugnant position". The groups also warn that ethnic harmony is "being sacrificed on the altar of political expediency in order to score points in the so-called culture wars".
During a Q&A discussion of the law and proposed reforms, Langton - one of Bolt's fiercest critics - called him a "fool" who believed in "race theories". She also claimed he had subjected an Aboriginal academic at the University of Melbourne, Misty Jenkins, to "foul ... racial abuse", as a result of which Jenkins had withdrawn from public life.
Bolt was "so bruised" by this attack, which he "watched in horror", he wrote in a column later that week, that he could not face going into work the next day. His wife was urging him to "play safe" [in his public views], and "this time I'm listening", he said. "Do I resist or run?" he concluded.
While some Australians may have felt they knew the answer to that question, the ABC - perhaps cowed by the government's relentless criticism of late - took the unusual step of apologising to Bolt on air. However, that did not satisfy the columnist, who called it "the smallest apology it could get away with".
The ABC is being sued by another arch-conservative columnist, Chris Kenny, after he was depicted having sex with a dog. Abbott condemned the public broadcaster for defending the defamation action, saying it should apologise to Kenny instead.