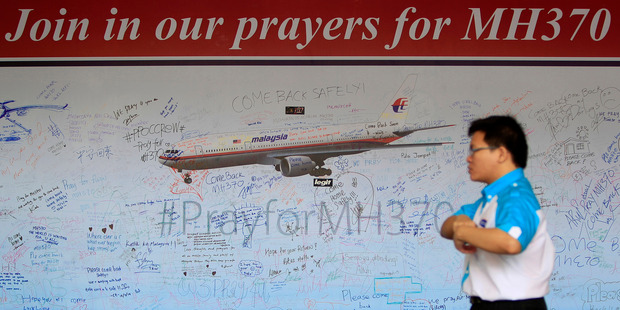 Getting hold of the flight recorders will be the priority if a crash site for MH370 is identified - but recovering anything from seas estimated to be around 4000m deep will be a major challenge, an Australian expert in accident investigation says.
Associate professor Geoffrey Dell, who lectures in accident investigation and forensics at Central Queensland University, says investigators will try to extrapolate its journey backwards in time.
Writing on academic blog site the The Conversation, Professor Dell said searchers would factor in how much the wreckage would have drifted in the prevailing ocean currents and attempt to track its path back to the point where radar contact was lost.
"If the debris is from flight MH370 the flight recorder beacons should be transmitting, so narrowing the search to the southern Indian Ocean may improve the potential to detect one of those signals," he wrote.
Which country is tasked with recovering the wreckage will come down to who can get the necessary equipment to the scene first.
The responsibility for any investigation of the wreckage would still lie with Malaysia.
"It will still be very difficult and time consuming to recover the wreckage once it is located. The depth of water alone will have a significant influence on the recovery options available, the difficulty involved and the time it will take."
If the flight data recorders can be recovered an explanation of exactly what happened should be possible.
"The digital flight data recorder will provide clear evidence of what the aircraft was doing from the time it departed Kuala Lumpur," Professor Dell wrote.
"Thousands of recorded parameters will give a very accurate picture of the flight, speeds, altitudes, headings, the configuration of hundreds of key aircraft components - a continuous image of what the aircraft actually did.
"The cockpit voice recorder should also shed light on what conversations and other noises occurred in the cockpit leading up to and after the last words: 'All right, good night'."
The MH370 search site appears to be above an underwater mountain range called the southeast Indian Ridge, and will likely involve robotic submarines, deep sea search expert David Gallow said.
"This would not really be as big a challenge as with Air France 447, which went down in much more ridged terrain," he told the Wall Street Journal. "This is more gently sloping."
Another daunting challenge for the Australian, American and New Zealand forces scouring the ocean is the shifting winds and currents.