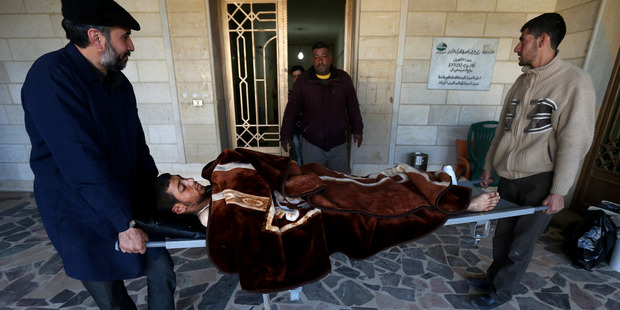 Imagine you have a young child whose legs were amputated because the hospital didn't have the proper equipment to treat them. Imagine a world in which patients opt to be knocked unconscious with metal bars because there are no anaesthetics.
Imagine a life where newborn babies die in their incubators because of power cuts.
Millions of people in Syria don't have to imagine - this hell is their reality.
I was living in Damascus three years ago when the protests that have morphed into a war began. This was a safe city, with a fully functioning health system; a city in which kids went to school every day.
Since then, the bloodshed has spiralled out of control and more than 2.4 million people have fled to safety in neighbouring countries. About 9 million remain in need of humanitarian assistance inside Syria - and more than 10,000 children have been killed.
But it is not just the bullets and shells that are killing and maiming adults and children; they are also dying from a lack of medical care. Syria's health system has been shattered.
Save the Children's new report, A Devastating Toll: the Impact of Three Years of war on the health of Syria's Children, highlights the horrifying health impacts the war has had on children.
It finds that hospitals have been targeted, patients attacked in their hospital beds and doctors killed or imprisoned while on duty.
"In Aleppo, a city of 2.3 million people - bigger than Paris - just 36 doctors remain where there should be at least 2500."
In fact, across Syria almost half of all doctors have fled to neighbouring countries.
Vaccination programmes have collapsed, causing the resurgence of deadly diseases such as measles, polio and meningitis, practically unheard of before the conflict. Once children get sick, they are increasingly unlikely to find appropriate treatment.
While the picture is bleak, some doctors are making heroic efforts to treat patients, and devising innovative ways of saving lives. One doctor told Save the Children his organisation was using car batteries to power home-made dialysis machines for children with chronic diseases.
And what is the world doing to help? Last month the UN Security Council secured a resolution on unhindered humanitarian access for impartial agencies like Save the Children. This is vital for the millions of people stuck inside Syria without access to medicines, vaccines and clean water.
This is an important first step - but access must include the lifting of sieges, or at minimum humanitarian pauses to allow aid in, permission for aid to cross conflict lines, and cross borders from neighbouring countries where this is the most efficient route. This could mean the difference between life and death for millions of children and their families suffering inside Syria.
Save the Children is also calling for parties to the conflict not to target health workers or health facilities, a violation of the Geneva Conventions.
It is impossible to know when the conflict will end. But what we can do is unite in support of the innocent Syrian people who have endured years of unspeakable suffering.
Dr Roger Hearn is Save the Children's Middle East regional director.