A global audience is following every move in the murder trial of Oscar Pistorius. Geoff Cumming reviews week one.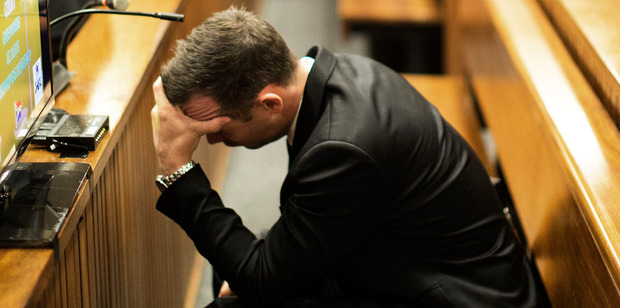 For once, the Blade Runner is not the only centre of attention. The Paralympian, whose Olympian achievements transcended sport, may be the subject of the most anticipated courtroom drama since the 1995 OJ Simpson trial, but the outcome is out of his hands.
Week one has established the pattern: this will be a marathon, not a sprint of the kind Oscar Pistorius won global admiration for on his carbon-fibre "blades". And, as the first of a possible 107 witnesses gave testimony, the man on whom his destiny rests, chief defence lawyer Barry Roux, served notice: try to beat my client and expect an inquisition as rigorous as a marathon. This soap opera of a murder trial is set to run and run, if the laborious pace of the first week is maintained.
With its universal theme (the fall of an idol who had triumphed over adversity) and sub-narratives (the treatment of women in South African society, the insecurity and gun culture of white suburbia, the justice system's treatment of celebrities) the case has garnered unprecedented global interest.
South Africans can see approved courtroom footage on a 24-hour pop-up TV channel, while those fascinated around the world can follow every utterance via journalists' Twitter feeds and watch videos of the cut and thrust on their smartphones.
Yet this was a week in which fevered speculation - fuelled, in part, by South Africa's relaxed contempt of court laws - and anticipation gave way to the tortuous process of establishing the cold facts behind the tragic events inside the Pistorius house in the early hours of Valentine's Day last year.
There are several principal actors in this potboiler: Judge Thokozile Masipa, with a history of firm judgments in crimes against women; prosecutor Gerrie Nel, well used to the spotlight; Reeva Steenkamp's devastated family and, of course, Pistorius - whose displays of remorse seem, to the more cynical observers, almost rehearsed. But in the confines of the North Gauteng High Court in Pretoria, it's Roux who has commandeered centre stage.
On day two, Witness 1 was driven to tears. On day three, when Roux challenged the integrity of the prosecution's third witness, he earned a warning from the judge. Though South Africa's justice system prevents jury trials, Roux knows he must walk the fine line between undermining and badgering witnesses in the worldwide court of public opinion. But he will test that line to its limits in the coming weeks, seizing every opportunity to sow doubt.
This trial is no whodunnit and the only eye-witness is Pistorius - it will come down to forensics and expert witnesses and what light they can shed on the state of mind of the man who fired four shots through his locked bathroom door, killing his girlfriend of three months.
Steenkamp was a law graduate and former model about to feature in a reality television show. Pistorius, 27, has maintained he thought she was an intruder: it was pitch dark, he was on his stumps feeling vulnerable and terrified. Though he lived in the gated Silver Woods country estate on Pretoria's eastern outskirts, he kept a gun under his bed after previous burglaries and "death threats".
It is a defence that may seem as thin as that waged by Simpson, the American football legend accused of murdering his estranged wife Nicole Brown and her friend Ron Goodman in Los Angeles. Yet Simpson was acquitted (though he was later found liable for the couple's wrongful deaths in a civil court). That case, which divided Americans along racial lines and has so many parallels to Pistorius', made a star out of Simpson's flamboyant attorney, Johnnie Cochran. A similar profile may not be Roux's aim but, with his celebrity client worshipped by "believers" in the same way as a Simpson or a Lance Armstrong, he has little option but to wear the mantle of saviour.
Reports depict him as a legal gun for hire, not motivated by altruism. In the 1990s he reportedly acted for an apartheid-era police chief who sued newspapers for damages over claims that he supplied a toxin to be used on anti-apartheid activists. Other clients include Dave King, a Scottish-born businessman and former Rangers football club director who risked jail for ignoring the biggest tax bill in South African history, and a dentist convicted of killing his wife.
A year ago, he famously demolished chief investigator Hilton Botha during Pistorius' bail hearing, before Botha was removed from the case when it was disclosed he himself faced attempted murder charges over a case in which he fired at a vehicle in an attempt to make it stop. Botha later resigned from the police. Asked after the hearing whether he had enjoyed the moment, Roux shrugged it off as part of the job and maintained "no case is fun".
In the build-up to the trial, media have labelled him "pugnacious" and "a bulldog". His approach in week one was more that of a terrier, contesting every scrap. Silver-haired, bespectacled and distinguished-looking in his robes, his questioning is meticulous; his demeanour frequently one of exasperation. Nel, by contrast, seems happy to play good cop to Roux's bad. But even he rose to Roux's bait at one point and apologised to the judge.
Vital to the prosecution case is establishing that Pistorius knew his girlfriend was behind the locked toilet door when he fired the four bullets.
The first prosecution witness was Michelle Burger, a university lecturer who testified that, from their neighbouring compound, she and husband Charl Johnson (called as the third witness) heard a woman's screams followed by four gunshots. Then further screams. With both witnesses, Roux sought to muddy the waters over whether the screams came before or after the alleged gunshots and whether they came from Steenkamp or an anguished Pistorius. The couple lived 177m away. Scientific tests showed it was impossible for them to have heard Steenkamp screaming before the gunshots, since she was behind the bathroom door, he said. He offered expert evidence to contradict Burger's testimony that the woman's screams continued for about two seconds after the final noise. Sparing no grisly detail, he said the last bullet caused such brain damage that Steenkamp would have been unable to scream.
Could those screams in fact have been Pistorius' high-pitched cries for help before he bashed at the locked bathroom door with his cricket bat - sounds that could have been mistaken for gunfire?
Roux noted that the emotional elements in the couple's testimony were missing in the evidence they'd given police. He suggested they had colluded in their testimony, which Johnson denied.
Johnson: "I can honestly tell you we did not discuss it."
Roux: "When witnesses start to use 'honestly', then I wonder about it. You could just as well have stood together in the witness box."
At this point Judge Masipa intervened: "Don't you go too far, Mr Roux."
Roux explored similar territory with another witness, Estelle van der Merwe, who lives much closer to Pistorius, in the same compound.
"We did tests of a man and woman screaming as loud as they can in the bedroom to determine how far sound would travel at 2 to 3 in the morning," he told her. "What's interesting is that you could not hear the screaming."
Roux has a job to do but the harrowing nature of the evidence has taken a toll - even, apparently, on his client. As Burger recalled hearing Steenkamp's voice fade just after the last shot, Pistorius put his face in his hands and began to cry. At another point, he put his hands to his ears.
On day four, the accused again covered his ears, cried and appeared to retch as another near-neighbour, Dr Johan Stipp, described the scene on the driveway, after Pistorius had carried Steenkamp's limp body outside.
"The first thing he said was, 'I shot her, I thought she was a burglar and I shot her'," said Stipp, a radiologist whose home is about 70m away.
He said he and his wife were awoken by what sounded like gunshots and the sound of a woman screaming. From his balcony, he could see a light on in the bathroom and a moving figure, which he noticed when he first heard screaming.
After the gunshots, he went to the athlete's home to investigate and found Pistorius outside kneeling over Steenkamp's body, praying. He noted a wound in her right thigh, another in her right upper arm. "As I looked further, I saw that there was blood and hair and what looked like brain tissue intermingled with that to the right area of her skull."
The evidence will get even more graphic. The prosecution will call forensic and ballistics experts to argue that the trajectory and grouping of the shots fired could only indicate an intention to kill. But Pistorius' wealth ensures Roux will also draw on a crack team to keep his client from prison, including an American forensic animation firm whose evidence is billed as "Pixar meets murder trial".
Professor Stephen Tuson, a criminal law expert at Wits University in Johannesburg, predicts that in the absence of eyewitness evidence the trial will turn into a forensic battleground.
"Evidence such as blood, bullet holes, cartridge cases, blood splatter, [text] messages ... they will try to argue that, from the objective forensic evidence, he's talking nonsense," he told the Daily Telegraph.
"The defence will try to say we have a version from the only witness there, Mr Pistorius, and the forensic evidence backs him up. The case will turn on the quality of the expert testimony."
The prosecution will also chip away at the Pistorius legend: far from the uncomplicated hero beloved by advertisers, he will be portrayed as aggressive, reckless and prone to violent outbursts. It will trawl through his complicated love life (several former girlfriends are due to give evidence) and fits of temper - police had previously been called to his house over "domestic incidents".
Pre-trial publicity has focused on his fondness for guns, with pictures emerging of his prowess at a gun range.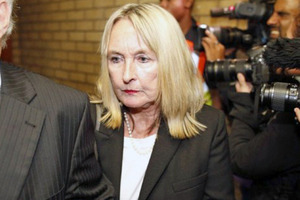 Already this week, Pistorius' past form with guns has come up - along with murder, he faces two charges for earlier firearms incidents. On day three, witnesses described an incident where he accidentally fired a gun under the table at an upmarket restaurant in Johannesburg. The shot narrowly missed the foot of his friend who had passed him the gun. He asked another friend to take the rap. He is also charged with recklessly shooting his gun out of the open sunroof of a car in 2012.
A tweet - that he went into "full combat recon mode" after mistaking the sound of his washing machine for an intruder three months before the fatal night - is also expected to be used in evidence. Prosecutor Nel has called him a man "willing and ready to fire and kill".
But it is still a leap from exploiting Pistorius' macho gun fascination to proving premeditated murder - and Roux will seize on every gap in his job of ensuring this O.J. Simpson sequel follows a similar script.
If the judge accepts that Pistorius did not intend to kill but used an unreasonable level of force to tackle a suspected robber, he could be found guilty of a lesser charge of culpable homicide. That carries a maximum sentence of 15 years. But he could also escape prison altogether, with a suspended sentence.
What the court heard
• Michelle Burger, first witness
"It was the most helpless screaming I have ever heard in my life - I knew something terrible was happening in that house.
"She screamed terribly and yelled for help. Just after her screams, I hear four shots. Four gunshots, bang bang, bang, bang.
"It was very traumatic for me to hear those bloodcurdling screams. You can't translate it into words. The anxiousness in her voice, and fear. It leaves you cold to hear that angst, that fear."
"I heard her voice just after the last shot. It faded away.
"When I'm in the shower I relive her shouts. The terrifying screams."
• Charl Johnson, Burger's husband
"The last scream faded moments after the last gunshot was fired."
• Estelle van der Merwe, second witness
"I woke up in the morning at 1.56am to sounds of someone talking loudly and fighting."
An hour later, she heard four "explosions or gunshots" followed by "total silence".
She and her husband then heard someone "crying out loudly".
• Dr Johan Stipp, fourth witness
"Oscar was crying all the time. He prayed to God to please let her live, she must not die. He said at one stage while he was praying that he will dedicate his life and her life to God if she would just only live and not die that night.
"He looked sincere to me. He was crying and there were tears on his face ...
"He was actively trying to assist her."

- Additional reporting: theguardian.com, The Independent