Released Australian whisked away to exclusive resort to spend her first night of freedom.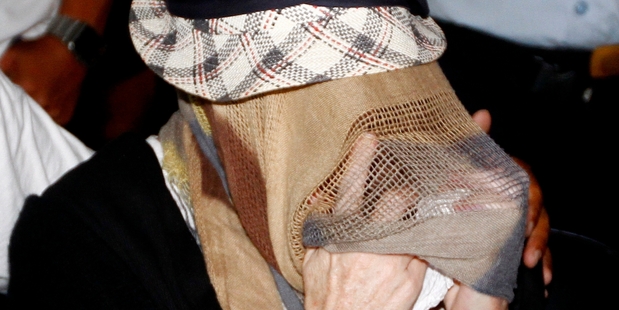 Schapelle Corby wondered at the media scrum outside Bali's Kerobokan jail and even cried a little, "in trauma over the journalists", according to an Indonesian prosecutor who questioned the convicted drug smuggler before she was released yesterday.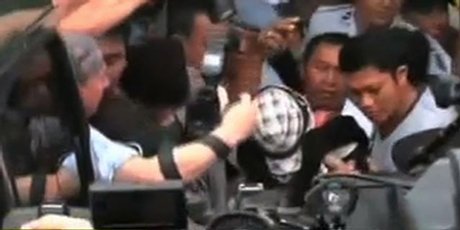 Never mind: she could console herself by contemplating the riches - possibly as much as A$3 million ($3.24 million) - she is set to earn from her first tell-all television interview, expected to be with Channel Seven's Sunday Night programme.
Seven's exclusive deal with Australia's most notorious ex-prisoner has left the rest of the media out in the cold, forced to make do with footage of Corby - her face completely obscured by a hat and several scarves - being hustled out of prison and signing release papers at the parole office in Denpasar.
There were chaotic scenes outside Kerobokan, where journalists, photographers and television crews had massed last week in anticipation of an announcement that she would be freed.
After completing formalities at the parole office and prosecutor's office, Corby was whisked away by veteran current affairs interviewer Mike Willese and taken to the luxurious Sentosa Seminyak resort, where she was to spend her first night of freedom.
Although industry insiders have dismissed speculation the 36-year-old could be paid as much as A$3 million - possibly for a multi-media agreement including an interview with Seven Media's New Idea magazine - the figure was still being bandied around yesterday.
If it proves correct, she will have pulled off one of Australia's most lucrative deals.
Media lawyers told the Australian she could circumvent laws aimed at preventing people from profiting from the proceeds of crime by, for instance, being interviewed jointly with her sister, Mercedes, and having the latter pocket the fee.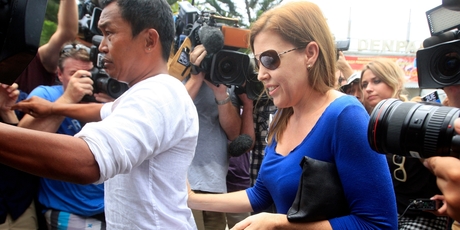 Jailed for 20 years in 2005 for attempting to smuggle 4.2kg of cannabis into Indonesia in her bodyboard bag, Corby - who has always protested her innocence - became eligible for parole after sentence reductions for good behaviour.
She was shadowed everywhere yesterday by a huge media pack, with photographers on the back of motorbikes surrounding her convoy of vehicles. At the parole office, television crews used cameras on long poles to peer through the frosted windows.
Industry sources told Fairfax Media the "slam-dunk" deal with Seven might have been struck long ago. They also suggested that it enabled Corby and her family to gain revenge on Channel Nine for airing a television movie which they detested.