SodaStream worker unfazed by political debate between Hollywood star and Oxfam.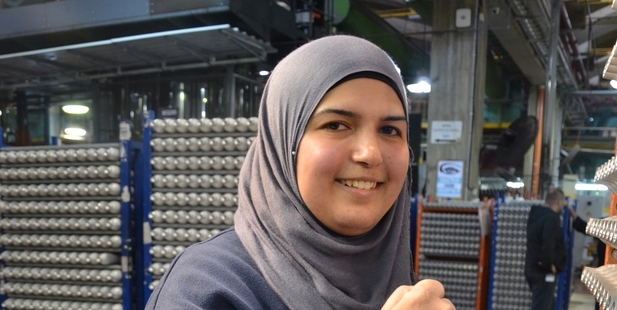 Yasmin Abu Markhia, 22, is proudly Palestinian - when the Herald asked her nationality she lifted her sleeve to show a Palestinian flag-themed bracelet.
Abu Markhia, who lives in Jerusalem, checks and stacks the carbon dioxide canisters that go inside SodaStream machines and has worked at the factory beside a Jewish settlement in the Israeli-occupied West Bank for four months.
She sees no conflict in working at SodaStream. "We are human, we earn good money and the work is good."
For 17 years the factory overlooking East Jerusalem drew little attention, but today the spotlight is on the Mishor Adumim plant, which is part of the largest Jewish settlement, Ma'ale Adumim - deemed illegal under international law.
This production plant is now at the centre of a political debate between Hollywood actress Scarlett Johansson and British charity Oxfam, which hired her as an ambassador.
Johansson announced last week that she had quit her role just days before the screening during the Super Bowl yesterday of an advertisement in which she fronts for the Israeli Nasdaq-listed soft drink machine maker.
Oxfam said her decision to star in the ad contradicted its position that factories in disputed Jewish settlements were a "denial of Palestinian rights".
Johansson's decision comes amid the international Boycott, Divest and Sanctions movement's long-running campaign to isolate Israel's economy until it withdraws from occupied West Bank land.
Johansson, 29, who has a Jewish mother, has not visited the factory in Mishdor Adumim, nor been to the Israeli-occupied West Bank.
She offered a different view of the factory, saying it employed both Palestinian and Israeli workers on equal pay and described it as a rare opportunity to build "a bridge to peace" between the two - a kind of economic collaboration.
SodaStream was able to set up a factory in the West Bank because of Area C, the zone of Israeli-controlled land that makes up 61 per cent of the West Bank. Palestinians are prohibited from building on the majority of the land and 68 per cent is set aside for the development or jurisdiction of settlements.
The SodaStream factory has 1300 workers, 500 of whom are Palestinian from the occupied West Bank and East Jerusalem, 450 Arab Israelis and 350 Jewish Israelis.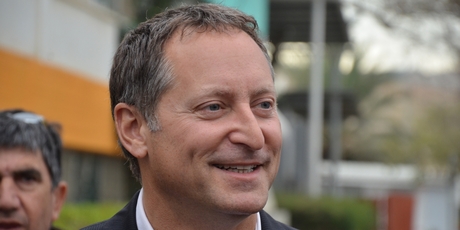 Palestinian worker Nabil Basharat, 40, from a village near Ramallah, has worked for SodaStream for four years and is now a shift manager. He supports his wife and six children on an income he says is high by both Palestinian and Israeli standards.
"We understand their [BDS and Oxfam] opinion, but they need to understand what the factory gives the Palestinian workers and there are a lot of factories in this area doing the same thing," he told the Herald.
A World Bank report last year estimated that even though Palestinians are among the best educated people in the Middle East, the employment rate is just 45 per cent. It estimated that the economy could be boosted by 35 per cent if development of Area C were allowed.
SodaStream chief executive Daniel Birnbaum said he was "fed up" with the Palestinian and Israeli conflict. He also said he did not agree with settlements and they should not be built.
He said the boycott had no impact on SodaStream, because the overall growth rate of the business topped 40 per cent last year, but Palestinian workers had paid the price.
"Markets like Sweden, Finland, Denmark and Norway only receive products from outside this factory - from the mother of human rights, China," he said.
Birnbaum believed Johansson was adequately briefed on the Israeli-Palestinian conflict despite never having been to the West Bank or the SodaStream factory.
"You don't have to visit the factory to understand the debate," he said.
"She was aware of the attention that an affiliation with this company and factory could bring. I frankly didn't expect it to be as big a deal as it ended up being. I didn't expect Oxfam to be so superficial in its treatment of this."
Oxfam's spokesman in Israel and the occupied West Bank, Alun McDonald, said Oxfam did not disagree with Israeli-owned factories in the West Bank once a peace agreement had been reached.
"Our opposition is not that it's an Israeli company - our position is the same for any company from any country working in settlements."
The issue was not labour rights or factory conditions, or SodaStream specifically, but about the location. "We believe Israeli settlements in the West Bank are an obstacle to the chance of achieving a two-state solution and lasting peace and that presence and expansion of settlements is one of the main drivers of poverty in the Palestinian communities we work in. Any company located in settlements contributes to their viability and legitimises them, no matter what their labour practices."