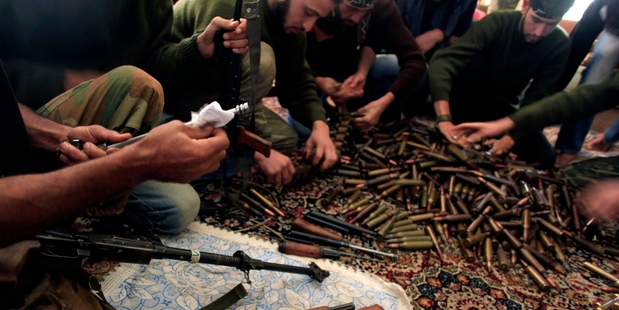 This week, the agonies of Syria and much of the Middle East came sharply home to Australia, where the representatives of 60 countries met in Sydney for Interpol's inaugural global security and counter-terrorism convention.
High on the agenda were the chilling trends that have increasingly marked international terrorism: the radicalisation of young Muslims, the threat of lone-wolf zealots and their easy access to simple but devastating bomb technologies, and the pervasive influence of the internet.
These trends have absorbed much of Australia's counter-terrorism efforts, brought home harder by the discovery of homegrown terror cells and the growing number of young Australians heading overseas to fight for radical Islamic groups.
As many as 120 are believed to have already joined the war in Syria. Facebook pages have shown smiling young fighters who have joined such groups as Jabhat al-Nusra, Sunni extremists linked to al-Qaeda. So far eight are believed to have been killed, among them husband and wife Yusuf and Amira Ali, from Sydney.
The Federal Police now have a unit tracking the movements of young radicals in a bid to uncover recruiting and travel arrangements. Money-laundering organisations are also tracing cash siphoned to terror groups abroad, often through unsuspecting aid organisations.
Last month federal police arrested Hamdi al-Qudsi and Amin Mohammed, both of Sydney, for allegedly assisting at least five would-be fighters to travel to Syria. Others attempting to make the journey have had their passports cancelled.
Australian counter-terrorism agencies fear that many of those who fight in jihadist causes overseas will return as radicals with the motivation and skills to carry out attacks at home. International studies have shown that as many as one in nine returning from conflicts abroad become potential threats to their own countries.
"We are witnessing a growing trend of citizens travelling offshore to engage in and support terrorist activities and conflict and it has been brought home to Australia most particularly by the Syrian conflict," Attorney-General George Brandis told the conference.
"These individuals are not only potentially in breach of Australian laws and commit offences offshore, but upon their return to Australia they may pose significant threats to our national security."
The danger does not lie only in Syria and its immediate aftermath. The domestic spy agency the Australian Security Intelligence Organisation warned in its latest annual report that conflicts throughout the Middle East, Africa, Afghanistan, Pakistan and Yemen were likely to maintain the threat for years to come.
"In particular, the complex interconnected issues around the Syrian conflict, tensions across the Middle East, and the aftermath of the Arab Spring will continue to present a variety of security challenges to Australia in the foreseeable future," the report said.
"An individual who becomes involved in the conflict and who holds, or develops, an extremist ideology could return to Australia not only with the intent to facilitate attacks onshore but also with experience and skills in facilitating attacks.
"We expect these challenges to play out over several years and have a medium- to long-term influence on the extremist environment in Australia, beyond any immediate resolution to the Syrian civil war."
Already occasional, small outbreaks of violence have erupted between Sunni and Shia communities in Australia.
Asio warns that individuals and small groups within the country believe an attack in Australia is justified, a danger heightened by "stay-at-home" radicals as well as returning jihadist veterans.
The potential was made brutally clear by last year's Boston Marathon bombing, which killed three and wounded 200, and by the murder of British soldier Fusilier Lee Rigby by two self-radicalised Muslims in a London street.
Asio said the outrages demonstrated the effectiveness of basic capabilities and simple techniques: "These unrelated attacks were perpetrated, without apparent external co-ordination or direction, by disenfranchised and radicalised individuals utilising everyday items which required no unique skill or knowledge that could not be gained from simple online instructions."
Online publications such as al-Qaeda's Inspire encouraged lone-wolf actions, and provided instructions on how to carry them out.
"References to Australia in publicly available extremist material confirm groups such as al-Qaeda continue to regard Australia as a legitimate target of terrorist attacks," the agency said.