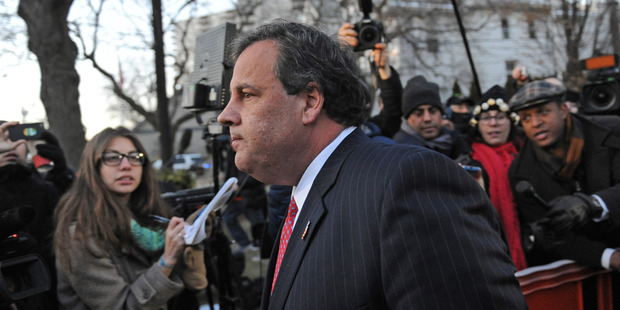 The tribulations of Chris Christie, the Governor of New Jersey hit by revelations of allegedly politically motivated lane closures onto the George Washington Bridge, are multiplying amid separate questions about possible misspending of federal aid earmarked for victims of Super-Storm Sandy in 2012.
Already reeling from the 'bridgegate' allegations, Mr Christie was on the defensive again after it emerged that a federal agency is investigating whether money was improperly spent on advertisements promoting New Jersey tourism that featured him and his family as he was preparing to run for re-election as governor.
The probe, launched by the Department of Housing and Urban Development, appears to be focused on why the governor's office accepted a $4.7 bid for TV spots declaring the Jersey Shore open for business that involved his prominent participation rather than a $2.5 million alternative that would not have cast him.
"This was money that could have directly been used for Sandy recovery. And, as you know, many of my constituents still haven't gotten the money that is owed them to rebuild their homes or raise their homes or to help," Frank Pallone, a New Jersey Democratic in the US House of Representatives, told CNN.
Democrat gripes about the ads have been circulating for months and in normal times they might have drawn scant attention. Now they will serve to compound a growing and damaging impression that Mr Christie, known for his swagger, has somehow conducted himself as if he were above the law. Just days after the bridge affair exploded into the headlines, it is clear that for now it is open season on him.
All this at a time when Mr Christie, who recaptured his governorship last November in a landside, should have been consolidating his image as a shoo-in for the Republican presidential nomination in 2016. Instead, both his annual state of the state address scheduled for Tuesday and his second-term inauguration set for next week will now be eclipsed by what has become a serious outbreak of political pox.
The bridge affair had also been simmering for months. Then last week emails and text messages made public that had been exchanged between top aides and appointees seemed to make clear that the closure over three days last September off two lanes from Fort Lee onto the world's busiest bridge had been ordered as part of an attempt to punish that town's mayor for not endorsing Christie for re-election.
Mr Christie responded by firing two of the aides involved and insisting that he had had no idea what they had been up to and that they had bare-faced lied to him insisting that the closures were part of a traffic management study. His assertion that he was clueless has, however, been met with assorted levels of scepticism even among some of his Republican friends.
The spasms unleashed by the revelations are surely far from over and could quickly swallow Mr Christie should any evidence emerge contradicting his claims of ignorance. An investigating committee led by Democrats in the state's legislative assembly in Trenton, the state capital, is preparing to issue new subpoenas to question witnesses in the case. Mr Christie could be one of those ordered to testify.
The TV ads that are now at issue were part of a Jersey is 'Stronger than the Storm' campaign that included vignettes of Christie, his wife and children at the Jersey Shore sunnily declaring it open for tourism business again just months after Sandy caused widespread destruction throughout the area in October 2012.
"The Stronger Than The Storm campaign was just one part of the first action plan approved by the Obama Administration and developed with the goal of effectively communicating that the Jersey Shore was open for business during the first summer after Sandy," Christie spokesman Colin Reed said.
While Mr Christie was characteristically vigorous in his bridgegate denials last week, many commentators noted that in the course of a nearly two-hour press conference, he managed to speak repeatedly about himself and almost not at all about the thousands of New Jersey commuters who were delayed or otherwise hurt by the massive snarl-ups caused by the lane closures. That has itself helped feed the narrative that as well as being a bully in office he also has an unfailing knack for narcissism.
- UK Independent