It was a dire year on the home front and on the global stage for Obama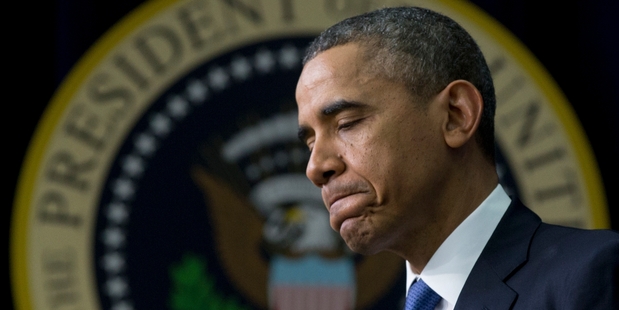 Things are bad when your popularity plumbs depths reached by Tricky Dicky, but this month a Washington Post/ABC poll placed President Barack Obama at 43 per cent, the lowest level since Richard Nixon sat in the White House. Despite a resounding 2012 re-election victory, Obama had a dire year. Republicans blocked his domestic agenda, US economic recovery was flaccid, foreign achievements were few in a climate marked by deepening power struggles with China and Russia, and the sensational revelation of mass surveillance by US spies sparked global condemnation.
When Obama took office for his second term in January, bipartisan gun control and immigration reform seemed within reach. Neither eventuated. Instead, the gridlocked 113th Congress passed the least number of bills since the "Do-Nothing Congress" of 1947-49.
Its nadir came in October, when Republicans - split between beleaguered moderates and Tea Party ideologues - shut down the US Government for 17 days, hoping to reverse Obamacare, the President's 2012 Affordable Health Care for America Act.
Democrats refused to blink and the Tea Party suffered a bruising defeat that deepened the Republican schism. Gallup said support for the Grand Old Party sunk to "a record low" of 28 per cent, although Chris Christie, the rotund and pragmatic New Jersey governor, was re-elected in November, making him a strong Republican prospect for the 2016 presidential race.
Texas GOP Senator Ted Cruz, Mr Shut Down himself, became a right-wing hero, although Rand Paul and Marco Rubio are potential Republican candidates in 2016. Hillary Clinton remained the Democratic favourite, with a swelling campaign chest. Progressives preferred Elizabeth Warren, the Massachusetts congresswomen who has excoriated Wall Street excess.
Latinos and Asians continued to reshape the US electorate, a demographic sea change that may leave the white-orientated GOP, stymied by Tea Party opposition to immigration reform, at a disadvantage. The Supreme Court overturned the Defense of Marriage Act, allowing same-sex unions, still banned in 33 states. Democrat Bill de Blasio, married to a black woman who once identified as a lesbian, was elected New York's left-leaning mayor.
Recreational marijuana became legal in Colorado and Washington state and the US Justice Department abandoned mandatory minimum sentences for low-level drug offenders. The Pew Research Centre found 52 per cent approved legalising pot for the first time in the four-decade "war on drugs."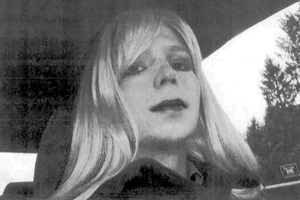 The US economy grew slowly at 1.9 per cent. In December, the Federal Reserve said it would trim US$10 billion ($12.2 billion) a month from its bond-buying scheme to cut interest rates and stimulate growth. Rolling strikes by fast food workers for an increase in the US$7.25 per hour minimum federal wage, signalled anger at "McJobs". Obama called the widening economic chasm - where chief executives make 273 times more than workers on average - "the challenge of our time."
Detroit filed for bankruptcy in July, the largest US city yet, amid fears other cities would follow. Corporate welfare, via tax breaks and subsidies, was estimated to cost each family US$6000 a year. Bloomberg suggested the annual total topped US$1 trillion.
The 50th anniversary of Martin Luther King's March on Washington, a pivotal moment in the civil rights struggle, saw the US Supreme Court dump a key provision of the 1965 Voting Rights Act that protected blacks from historic discrimination in former slave states. A Florida court acquitted a Latino man who shot and killed an unarmed black teenager, sparking angry debate about race and "stand your ground" gun laws.
Despite Obama's pleas for "common sense" gun laws, more than 100 people died in mass shootings including a September massacre at the US Navy Yard in Washington that killed 12. A bomb exploded at the Boston Marathon in April, killing three and injuring more than 260. A policeman died in a four-day manhunt for two young men that left one dead and his brother in custody.
In September the fifth UN Intergovernmental Panel on Climate Change said humans were the "dominant cause"of global warming. The US insisted it "was deeply committed to leading on climate change," but auctioned 316 million tonnes of coal on public lands in Wyoming. A controversial scheme to pipe crude oil from Canada to the US emerged as a test case for the US on climate change. A decision is expected in 2014. Meanwhile, natural gas, fracked from deposits beneath the Northern Plains, drove a fossil fuel energy boom. Extreme weather became common.
Obama may have seen off GOP attacks on Obamacare, but the insurance scheme's October rollout fizzed as a government website crashed. The President's popularity nosedived. Wags suggested Obama cut a deal with Eric Snowden, offering the National Security Agency whistleblower amnesty if he returned from exile in Russia to fix the website.
The NSA's annus horribilis began on June 6 when the Guardian newspaper revealed that spies had secretly amassed phone records from millions of Americans. Ongoing media coverage revealed Orwellian mass electronic surveillance by the secretive NSA ("No Such Agency") and its Five Eyes allies, igniting a privacy debate and embarrassing the US, caught spying on allied leaders like Germany's Angela Merkel and Brazil's Dilma Rousseff. By November the Guardian said only 1 per cent of material - purportedly 1.7 million documents - had been published.
A federal judge debunked the NSA's rationale - that mass surveillance stopped terror attacks - and ruled it was "likely unconstitutional", violating US privacy rights. As a senior NSA official suggested an amnesty offer to Snowden provided leaks stopped - a deal opposed by the State Department - the US fugitive asked Brazil for asylum.
Russia's President Vladimir Putin proved Obama's bete noire, harbouring Snowden and thwarting US efforts to attack Syria after chemical weapons were allegedly used against rebels. Public opinion was opposed to air strikes and Obama's high-stakes gamble for congressional support was rebuffed.
Reports a covert CIA agent, Robert Levinson, had vanished in Iran in 2007 failed to dampen hopes a November deal - curbing Tehran's alleged nuclear bomb programme in return for relaxing sanctions - would make the region safer. The agreement, hammered out between Iran and the P5+1 group - the US, UK, Russia, China, France and Germany - was a coup for Obama, but worsened already strained US relations with top Middle East ally Israel.
Critics branded US drone strikes, used to assassinate suspected terrorists but leaving thousands of civilians dead, as war crimes. Undeterred, the US grew its archipelago of drone bases in Africa and elsewhere.
The Obama Administration continued draconian attacks on whistleblowers, sentencing Bradley (now Chelsea) Manning to a 35-year jail term in July for violating the 1917 Espionage Act by releasing classified documents to WikiLeaks.
The gulf between US goals and partners in the secretive Trans-Pacific Partnership Agreement talks - with claims US intellectual property rights will trump sovereignty and consumer safeguards - was exposed by WikiLeaks. Russia and China sought their own economic blocs, clashing with the US and the European Union. When Russia deployed nuclear-capable missiles on the EU border, as both compete for influence in the Ukraine (where US energy giant Chevron signed a gas deal that may give Kiev energy independence from Russia), the US urged the Kremlin to show restraint.
Obama and Chinese leader Xi Jinping met in June but failed to defuse tensions after attacks on US websites were traced to the People's Liberation Army. Military brinkmanship between both powers increased in the East China Sea. As Nasa worked to defuse an International Space Station glitch, Beijing's Jade Rabbit rover landed on the Moon. A Pew poll found 53 per cent of Americans believed their country played "a less important and powerful role as a world leader "than it had in 2003.
Nonetheless, the US economy and military still dominate the globe. America's mysterious X-37B Orbital Test Vehicle - described as a "test bed" for new technologies by the Pentagon, but suspected by some to be a prototype space weapon - continued to circle Earth a year after its launch.
Snapshot of nation
• 53 - Per cent of Americans believe their country plays "a less important and powerful role as a world leader" than it did a decade ago
• 273 - Chief executive pay on average is 273 times more than workers
• 52 per cent of Americans now support the legalisation of cannabis
• 100 - Americans died in a number of mass shootings