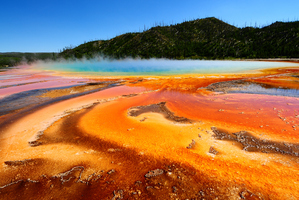 The supervolcano hidden beneath Yellowstone National Park in the US is even more enormous than had previously been thought, scientists say.
The cavern of magma lying under the famous landscape - which account for its distinctive hot springs and geysers - is actually around two and a half times the size of earlier estimates, according to new analysis.
A team from the University of Utah said the findings were "astounding" when presenting the study to the American Geophysical Union Fall Meeting in San Francisco.
Scientists found the underground cavern stretches for more than 90km and contains 200-600 cubic km of molten rock, BBC News reported.
But they sought to assure the public that the supervolcano being bigger than thought doesn't necessarily mean an increase in the probability of it erupting.
Last time that happened, the entire of North America was blanketed in ash and there was a shift in the whole planet's climate. A great deal of research has gone into a better understanding of Yellowstone - and the forces that could lead to such a catastrophic event reoccurring.
Prof Bob Smith, from the University of Utah, told the BBC: "We've been working there for a long time, and we've always thought it would be bigger... but this finding is astounding."
Another member of the team, Dr Jamie Farrell, explained: "We record earthquakes in and around Yellowstone, and we measure the seismic waves as they travel through the ground.
"The waves travel slower through hot and partially molten material ... with this, we can measure what's beneath."
They found that the chamber reaches depths of between 2km and 15km, and was about 90km long and 30km wide. Dr Farrell said that "there's been nothing mapped of that size before".
There is some concern that a Yellowstone eruption is almost due. Scientists believe the supervolcano could go off once every 700,000 years, with previous eruptions 2.1 million years ago, 1.3 million years ago, and 640,000 years ago.
Yet Prof Smith said more data was needed before a pattern could be confirmed. Referring to the latest research, he said: "Yes, it is a much larger system... but I don't think it makes the Yellowstone hazard greater."