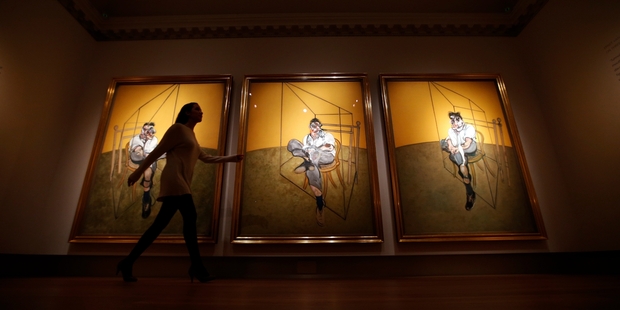 When a mutual friend introduced Lucian Freud to Francis Bacon it seeded a competitive friendship between the two titans of 20th century figurative art, who made each other a favoured subject.
But while the relationship ultimately soured, its artistic legacy appears more potent than ever after a 1969 triptych of portraits by Bacon of his fellow artist became the most expensive work ever sold at auction, fetching US$142 million ($171 million) in New York.
Three Studies of Lucian Freud has overtaken the previous record set by Edvard Munch's The Scream, which fetched US$119.9 million at Sotheby's last year.
Outstripping the US$85 million which Christie's had estimated, the piece was bought by William Acquavella, Freud's New York art dealer until his death in 2011, on behalf of an unnamed buyer, after a frenetic 10 minutes of bidding.
Larry Gagosian, the art super-dealer who was among those outbid, said: "I went to US$101 million but it hardly mattered."
The highest price for one of Bacon's works until now was US$86.3 million, paid by the Russian businessman Roman Abramovich in 2008, for a 1976 triptych.
A spokesman for Abramovich declined to comment when asked if he had added Three Studies to his collection.
Bacon, famed for his triptychs, painted the panels in 1969 at London's Royal College of Art, after his studio was destroyed in a fire.
Experts said the triptych showed the intimacy which developed between the two giants of British post-war painting, 24 years after they were introduced by the Irish artist Graham Sutherland.
Francis Outred, head of Post-War and Contemporary Art, Europe, at Christie's, described the work as a "true masterpiece and one of the greatest paintings to come up for auction in a current generation".
He added: "It marks Bacon and Freud's relationship, paying tribute to the creative and emotional kinship between the two artists."
The artists forged a close bond when Sutherland invited Bacon, then 36 and Freud, 23, to spend the weekend at his country house in 1945.
Meeting first at the railway station, Freud later recalled: "Once I met him I saw him a lot."
At one point, they met on an almost daily basis, frequently at their favourite watering hole, the Colony Room in Soho and the pair painted each other on several occasions.
Freud first sat for Bacon in 1951 and was fascinated by his friend's approach to portraiture.
The following year Bacon "grumbled but sat consistently" over a three-month period at Freud's behest for a portrait bought by the Tate but subsequently stolen in 1988 while on loan to an exhibition in Berlin.
A second Freud portrait of Bacon, painted in 1956, left unfinished after Bacon abandoned the sitting, was sold at Christie's in London for 5.4 million ($10.4 million) in 2008.
Freud, famous for his nudes, cited Bacon's influence as a reason for his decision to adopt a more spontaneous approach to painting.
Freud would praise Bacon for "packing a lot of things into one single brushstroke".
Notorious for his bitter feuds, Freud fell out with Bacon in the mid-70s after an argument. Frequently broke in his youth, the Irish-born Bacon came to resent Freud's snobbery and his love of old-fashioned, high society.
Just four portraits of Freud by Bacon have sold at auction in the past 20 years. In 2003, a small triptych was bought for US$3.8 million.
The Three Studies panels had been separated for 15 years following sales in the 70s. They were united again by a collector in Rome who sold them to an anonymous United States-based collector who put the artwork up for auction at Christie's.
Since Abramovich's pre-credit crunch US$86 million purchase, there has been a dearth of major works by Bacon, who died in 1992, on the market.
Ben Street, an art historian, said: "This is not an A-grade Bacon; it shouldn't have gone for US$142 million. It may have gone for so much because there aren't that many big Bacons still available.
"The market is so insatiable. If something becomes available, especially something large, everyone goes bonkers. This is a well behaved Bacon, it's neat. It's not dark and crazy like he can be when he's really good."
Although their friendship was sundered, Freud maintained his admiration for Bacon's artistic achievements.
"Francis Bacon would say that he felt he was giving art what he thought it previously lacked," he once said.
"With me, it's what Yeats called the fascination with what's difficult. I'm only trying to do what I can't do."
The triptych is not the most expensive painting ever sold. Cezanne's The Card Players was sold privately to the Qatar royal family for 160 million ($310 million) last year.
A record week
Wednesday:
- Francis Bacon triptych Three Studies of Lucian Freud fetches US$142 million in New York, breaking a world record for the most expensive artwork sold at auction
- Jeff Koons sculpture Balloon Dog (Orange) breaks world auction record for a living artist selling for US$58.4 million
- Orange diamond sold for US$35.5 million in Geneva, setting a per carat record for any coloured diamond at a public sale
Thursday:
- A pink diamond sold for US$83 million in Geneva, the highest price paid for a gemstone at auction.
- An Andy Warhol painting Silver Car Crash sold for US$105 million in New York, shattering the previous record for a Warhol at auction of US$71.7 million
- Independent