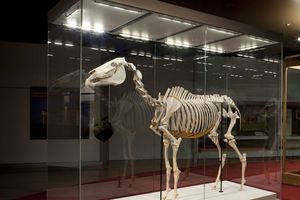 Robot technology is bringing legendary racehorse Phar Lap to life for Australian school children.
For the first time since his death in 1931 the Melbourne Cup winner's body will be brought together, virtually.
Phar Lap is currently preserved in three places - his heart sits at the National Museum of Australia in Canberra, his hide is in the Melbourne Museum, and his skeleton in the Museum of New Zealand Te Papa Tongarewa.
But now schools across Australia can to log in to the National Museum of Australia from their classrooms and see the racehorse, while speaking to experts at the same time, using the Commonwealth Scientific and Industrial Research Organisation's (CSIRO) museum robot.
Students can log in and control their own unique view of Phar Lap using 360 degree panoramic camera on the robot's head. They can also click on items in the exhibit to bring up images and more information.
Manager of the museum robot program, Robert Bunzli, said it will give pupils a "much richer cultural and educational experience", and a bit of fun for Melbourne Cup day.
"The feedback from teachers and students has been overwhelmingly positive. To date we've done 70 virtual tours for nearly 1000 participants at schools and libraries across Australia and we plan to reach many more," he said.
Dr Jonathan Roberts, robotics expert at CSIRO, said it is hoped the technology used to bring the racehorse to the classroom could be extended to remotely deliver health services, conducting medical training or facilitating remote ward rounds in hospitals.
The black and white bodies of the two museum robots at the National Museum of Australia are shaped like chess pieces and were named Kasparov and Chesster in a competition launched earlier this year.
- APNZ