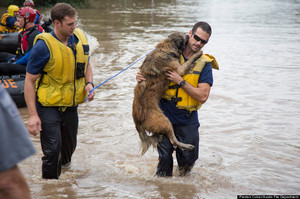 After a flash autumn storm caused more than 6cm of rain to fall on central Texas this week, parts of Austin have been under water.
Small creeks broke their banks, larger rivers washed out low-lying areas and residents who evacuated their homes moved to emergency shelters.
The city's firefighters' rescue work included plucking a terrified dog from knee-deep floodwaters.
Fireman Preston Culver snapped Matt Harvey and Michael Cooper carrying the animal to safety.
"We don't just rescue two-legged victims," the Austin Fire Department wrote on its Facebook page.
"We love our four-legged friends as well."