Do you know anyone who was at LAX when the shooting happened? Email news@hos.co.nz.
Officials have named the man suspected of shooting a federal security officer and wounding three other people at Los Angeles International Airport.
The gunman, who was wounded in a shootout with police and taken into custody, targeted Transportation Security Administration agents, union officials said.
A law enforcement official said the shooting suspect was Paul Ciancia, 23, from New Jersey.
He was wearing fatigues and carrying a bag containing a handwritten note that said he "wanted to kill TSA and pigs," the official said, who was briefed on the investigation and requested anonymity because was he was not authorized to speak publicly.
A police chief in New Jersey said Ciancia's father called him on Friday saying another of his children had received a text message from Ciancia in reference to him taking his own life.
Read: LAX shooting suspect sent suicide text to sibling.
Pennsville Chief Allen Cummings said Ciancia's father asked him for help in locating his son.
The chief said he called Los Angeles police, which sent a patrol car to Ciancia's apartment. Two roommates there said they had seen him Thursday and that he was fine.
"Basically, there were two roommates there" Cummings said. "They said, 'We saw him yesterday and he was fine."'
It wasn't clear whether the police visited before or after the shooting.
Kiwis left stranded
An Air New Zealand spokeswoman said several of the airline's flights were at a standstill because of the shooting.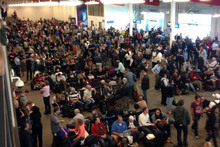 The Federal Aviation Administration (FAA) has issued a national ground-stop, or hold, for all arriving flights that have not yet departed from their originating airports to LAX following the shooting.
This ground stop does not affect departing flights from LAX.
NZ6 from Auckland, which touched down shortly after 11.30am local time in Los Angeles is currently parked on the tarmac at LAX with 356 passengers onboard. Buses will shortly transfer these passengers to a terminal for customs processing.
NZ2 from Auckland is due to arrive in Los Angeles at 3pm local time and NZ1 from London is due in late this evening local time. Both aircraft are en route.
Air New Zealand has three further flights due to depart Los Angeles today - one to London and two to Auckland.
Air New Zealand passengers requiring further information were advised to call the Air New Zealand contact centre on 0800 737 000, or 1800 262 1234 (United States).
'Chaos' as gunman entered terminal
Los Angeles Airport Police Chief Patrick Gannon said the gunman entered the terminal, pulled an assault rifle from a bag and began shooting at a screening checkpoint before entering the terminal.
He said the lone shooter approached a security agent who was checking passenger documents and opened fire.
"As you can imagine, a large amount of chaos took place in this entire incident," he said.
Los Angeles police assistant chief Earl Paysinger said the suspect apparently was injured following an exchange of gunfire with officers.
Officials told a press conference they saw no further threat to the nation's third largest airport - a major gateway for flights to Asia, Australia and New Zealand.
Some passengers had been evacuated, while others were locked down in airport restaurants and lounges.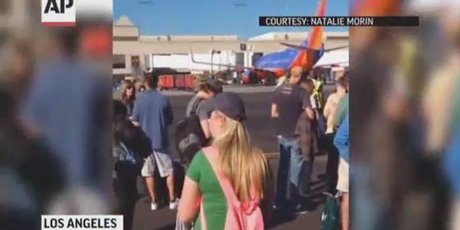 The airport was being swept as part of precautionary measures, and the bomb unit was on the scene, AP reported.
A UCLA Medical Center spokesman said they received three male victims from the LAX Airport shootings.
"One arrived in critical condition and two are listed in fair condition."
The gunshots were reported at Terminal 3, which is home to Virgin America and other airlines.
Witness reports
Witness Brian Keech told the Associated Press he heard "about a dozen gunshots" from inside a security gate at the terminal.
Ben Rosen said he heard gunfire erupt and saw people start running in all directions and others crouching.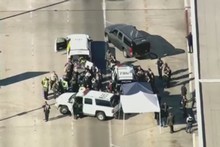 He said he lay on the ground and police, with their guns drawn, shouted, "This is not a drill, hands up".
"It was scary I've never experienced anything like this before," Mr Rosen said.
Airport security staff evacuated terminals, including onto to the tarmac. Hundreds of people remained gathered outside next to airplanes.
LAX air traffic controller Michael Foote said his colleagues in the control tower saw passengers spilling from the terminal onto the tarmac, "evacuating the building, getting out as fast as they could".
-additional reporting by AP
- APNZ