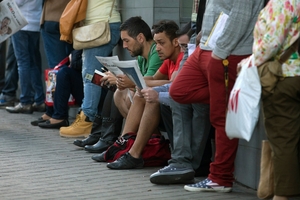 The barista serving your drink might be better educated than you are, as a lost generation from recession-hit Europe flocks to Britain to seek work and finds it's not always what they hoped it would be.
Nothing tastes quite as good as a coffee brewed by an expert barista. However, increasingly the chances are that the person serving you will have a high level of expertise in something a bit more substantial than coffee. With students and graduates from recession-hit Europe moving to Britain in their droves in the hope of finding work, the person serving you could well have a PhD.
Dubbed the "lost generation", it is not hard to come by the stories of the qualified and aspirational young people from countries such as Spain, Portugal and Greece who are struggling to find employment in Britain.
While their home countries are experiencing some of the worst effects of the economic crisis, many are realising that life as a migrant in Britain can be just as harsh and unfulfilling.
Last month, the seemingly hopeless situation led one 25-year-old Spanish man who works in a "famous coffee chain" to vent his frustration online. In a post on Facebook and Twitter, he wrote: "My name is Benjamin Serra, I have two bachelor's degrees and a master's degree and I clean toilets. No, it is not a joke."
His sentiments have understandably been met with sympathy from his peers. More than 800,000 young people in Spain are unemployed. Those with the means have left the country to seek opportunities elsewhere and in the past year alone more than 45,500 Spaniards registered for a national insurance number in Britain.
One recent migrant is Rafael Munoz Fernandez, who arrived in 2010, aged 28, soon after the eurozone crisis hit. He had studied journalism in Valencia for five years but had to start working as a waiter in London, before moving on to a position in hotel. He read about Serra's online post in the Spanish newspaper El Pais. "Of course it is familiar to me because we are doing jobs which we are overqualified for," he says.
"Sometimes this is due to the language, sometimes because the lack of experience or because you didn't work in the UK before. At some point you get desperate and fed up. But there is no other way than to keep going."
For Fernando Mariano, a 26-year-old student from Porto, the situation is quite simply "scary". Mariano completed a course in acting at Portugal's leading drama school in 2008 and was initially able to find work. When the crisis hit in 2010, however, it all dried up.
Mariano moved to Britain two years ago, and made the decision to go back into education to improve his chances of finding employment there in the future. He is studying dance and musical theatre.
"London is a very hard city," he says.
"It's very difficult to get into a good position when you are from another country, or have an accent. Even if you went to the best school in your home country, no one's heard of it. There is work in the UK but there's a long time of adaptation, with the language. Even today, I know I'll have problems with my accent."
He also feels a strong sense that his opportunities have been stunted by the recession. "It's true about the lost generation," he says.
"Everyone's running away. Our PM said, 'Young people, please emigrate while you can.' Back in Portugal I have loads of friends living on just 600 ($980) a month who say they are the lucky ones."
For young people in Greece, the situation is just as desperate. At 62.9 per cent, it has the highest youth unemployment in Europe. This is what drove 25-year-old visual communications student Demi Dimitropoulou to move to Britain in 2009.
"I only finished three out of the five years of my study because at that point the entire university structure in Greece was falling apart," she says. "Students were holding months-long sit-ins at uni, preventing classes from being held, and funding for our tutors and facilities had dried up. Because of the uncertainty I decided to move to the UK to finish my studies and find a job."
Initially she was living outside of London, doing a course in fine art, but found it impossible to find work.
She is highly aware that she is not alone in this. ' "As for my generation, I think the percentages speak for themselves. In Greece, 65 per cent of young adults [under 30] are unemployed or under-employed. As far as the UK is concerned, while London is still viable as a job market, outside the capital, the countryside is suffering. And there is only that many people London can absorb before it crashes."
- Independent