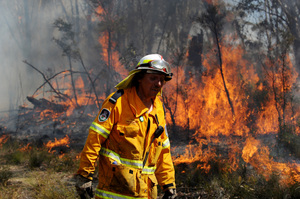 New Zealand firefighters are still on standby and waiting to see if under-fire Australian colleagues need their help in battling the raging New South Wales bushfires.
Prime Minister John Key spoke to State Premier Barry O'Farrell yesterday and afterwards said it was likely that specialist firefighting personnel would join the fight.
A New Zealand Fire Service Commission liaison officer flew to Sydney today.
He will speak to authorities tomorrow and be briefed on "what their needs are and identify where New Zealand can provide a contribution,'' said National Rural Fire Authority head Murray Dudfield.
"They've got a situation in front of them they need to manage and they'll do their best with their firefighters and their communities.''
Specialist teams remain on standby here to help combat the state's worst fire crisis in 45 years, he said.
The service sent specialist alpine and timber forest firefighters to Tasmania and Victoria when those states battled widespread bushfires last summer.
If the call for help is taken up, Mr Dudfield said the planning would kick into action and specialist teams would leave immediately.
He didn't know how many firefighters would leave, if required.
A state of emergency is in effect across New South Wales.
About 2000 firefighters are being rotated on the Blue Mountains front line - which stretches for more than 42,000ha.
They have been warned of a storm passing over the area which could bring 70km/h winds.
Light rain has fallen today but fire crews it's not enough to dampen the rampant flames.
Fires burning out of control at Lithgow and Mt Victoria in the Blue Mountains have merged "in a controlled way'', the Rural Fire Service says.
RFS Commissioner Shane Fitzsimmons told the Daily Telegraph that firefighters had been backburning in an effort to join the two fire fronts and stop them forming a ``mega-fire'' with a third, uncontained fire at Springwood.
Winds are expected to strengthen up to 90km/h tomorrow.