Syria's deadly civil war has created a human tidal wave of refugees in neighbouring Lebanon. Newstalk ZB's Rachel Smalley and photographer Chris Sisarich went there with World Vision to find out what their lives are like now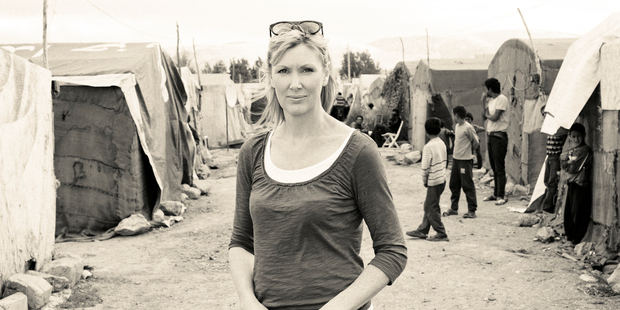 It's her poise that catches my eye. She is standing alone in a makeshift camp near Lebanon's border with Syria.
She is tall. Her eyes are warm and curious. She is 14 years old and home is now a cardboard tent wrapped in a white plastic sheet.
"Are you a journalist?" she asks.
I nod and wave my notebook. "Yes, I am. I am from New Zealand."
She looks puzzled.
"New Zealand. Near Australia," I say.
She smiles. "Ah, yes. I know it. Welcome to our home. I am a Syrian refugee now, but one day I will be a teacher."
She tells me her name is Hind and she is from Homs, a city in the west of Syria. She and her family fled to the city's outer suburbs when Government troops launched a major assault.
"The rockets, the tanks, the gunfire ... so many rockets," she says.
Her father thought the conflict would pass and he could re-open his supermarket and move back into their three-storey home, but when the family returned everything had gone. One wall of the house had been destroyed by rockets. Their furniture had disappeared. The interior was burnt to its concrete foundations.
"There was nothing. Nothing left of our lives," she says. "We crossed the border into Lebanon with only the clothes on our backs."
Hind points to a man who's sitting on a white plastic chair outside her tent, staring towards the hill range behind their camp.
"That is Baba," she says. "That is what he does all day now. On the other side of those hills is Homs."
I ask her how she's coping. She is 14, living in a refugee camp and hasn't been to school for two years. I tell her that she's incredibly brave and I hope the fighting will end soon.
She lowers her gaze, covers her mouth with both hands and begins to cry. "I am so lonely. If I could go back to Syria for one hour, I would. Just one hour. I want to go back to my school. I want to find my friends. I miss every single grain of sand in Syria."
The poise that first caught my eye is gone.
"Everything is different. The air. The water. The sand. This tent. I am a stranger here. I don't know this land. I want to go home. I want to go back to Syria."
The Bekaa Valley is Lebanon's agricultural jewel; a lush strip of land that runs the length of the Anti-Lebanon mountain range on the country's eastern border with Syria. To Syrians fleeing the fighting, it appears like a calm and plentiful oasis on the Damascus-Beirut highway.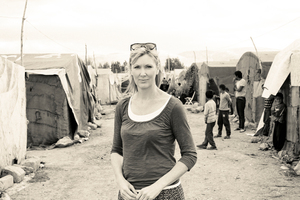 On the day I visit, 82 Syrians have arrived at one of World Vision's aid distribution centres to register as refugees. Two thousand Syrians will enter Lebanon today but when America was threatening to strike Damascus, 60,000 refugees arrived in 24 hours.
A truck pulls up outside and two men jump on the back. They start hurling plastic-wrapped mattresses on to the dusty ground below while World Vision staff issue hygiene kits, blankets, and baby packs with nappies and sterilising equipment.
The refugees are mainly women and children and they're told that water tanks and portable toilets are on the way.
It's been like this for two and a half years and aid agencies are now supporting almost a million refugees in Lebanon.
Karem Bayoud, who is managing World Vision's Syria Programme, tells me two million Syrian refugees will by living in Lebanon by Christmas.
"This is a protracted crisis. It's grown far beyond what we ever anticipated and every agency is running out of money," he says.
A Syrian woman approaches me with a letter. She has been told she will no longer receive the monthly US$27 [$32.60] food voucher that is issued to every refugee. Instead she must share her husband's.
She is distraught. "What will we do? Why has this happened? Winter is coming."
Lebanon is starting to buckle under the strain of supporting a rapidly increasing population. Its Government estimates the cost of supporting a million refugees will exceed U$S1 billion but the cost of living in such a troubled neighbourhood could be far greater.
In Beirut I've arranged to meet a former soldier who assists foreign journalists on issues of intelligence and security. He has connections with many of the Middle East's political parties and militant groups and for that reason, I can't identify him.
"What you need to understand is Lebanon is now unstable. The fighting has crossed our borders," he says.
He tells me that 7000 Shia fighters from the Lebanese militant group Hezbollah have crossed in to Syria.
"They're funded by Iran and they're fighting for Assad."
He says rockets are being fired back and forth across Lebanon's northern border with Syria . There have been bombs in Beirut and Tripoli, he says "and Assad has sent fighters in to southern Lebanon to fire rockets into Israel".
"Why would he do that?" I ask.
"He's trying to antagonise Israel. If the Israelis start firing rockets back across the border, you're on the verge of a major regional conflict and that takes the heat off him."
I am watching a little boy play at the World Vision distribution centre. He's taken a shine to Chris, our photographer, shaking his hand and giving him a peck on the cheek in the traditional Arabic greeting.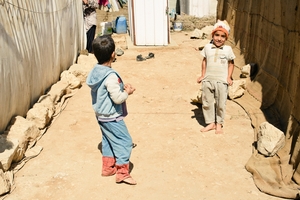 His mother, Leila, tells me her children's lives have changed forever.
"They talk about war and guns now ... and flames. It's always about flames and fire."
Her son hears the word "guns", raises an arm and starts firing at a stack of plastic chairs. He is only 4 years old but he's perfected the sound of automatic gunfire.
"See? What can I do?" Leila says.
"Solve this conflict at any price. Please. God willing. Any solution. Just let it end."
In some of the refugee camps, child protection programmes are using art, music and drama therapies to find children who've been traumatised by the conflict. In some cases, they're offered counselling. Agencies are trying to establish schools in refugee camps too, but the demand is great.
Bayoud says, "there are now more Syrian school-aged children living in Lebanon than there are Lebanese school-aged children. The scale of this crisis is huge."
I ask Leila if she can help New Zealanders understand what Syrian families are going through. She shakes her head and shrugs.
"No. I don't think I can. It is impossible."
She pauses for a moment and then she says "Yes, I can tell them something.
"Tell them to enjoy the peace that they have."