More than 2m people have fled to other countries while 4.3m are displaced at home.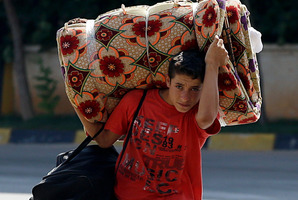 Syria's civil war has driven almost a third of the country's population from their homes, causing the humanitarian calamity of the century, says the United Nations.
The number of Syrian refugees in neighbouring countries has reached two million, while a further 4.3 million people have been displaced within the country's borders.
The fighting has been so intense that the number of refugees has increased almost tenfold in a single year, the UN says.
"Syria has become the great tragedy of this century - a disgraceful humanitarian calamity with suffering and displacement unparalleled in recent history," said Antonio Guterres, head of the UN High Commission for Refugees.
According to the UNHCR, the UN's refugee agency, there is no sign of the "tragic outflow" of refugees from Syria ending. Many crossed the border with little more than the clothes on their backs.
A year ago, the UN said, the number of Syrians registered as refugees stood at 230,000 - meaning the total has jumped by almost 1.8 million in 12 months.
About 5000 refugees now flee Syria every day. Of the two million to have fled so far, more than half are under 17.
The UN said more people were forcibly displaced in Syria than in any other country. Guterres said the only solace was the humanity shown by neighbouring countries, such as Jordan, Lebanon and Turkey, in welcoming the refugees, despite the overwhelming burden.
Yesterday, Syrian refugees in Zaatari camp, Jordan, begged President Barack Obama to attack the Syrian regime.
One mother described a mood of despair after the House of Commons voted against Britain joining any military campaign last Friday.
"They gave us hope and then they took it away," she said. "None of the countries are intervening. Our homes were bombed and burned - every day it gets worse."
This vast camp holds about 120,000 people, making it the fourth-biggest city in Jordan.
A woman who gave her name as Khadija arrived on Monday with her seven children. Their home in the city of Hama was destroyed, forcing the family to flee to Jordan.
"The home next to us was hit by a rocket and a 3-year-old girl was killed," said Khadija. "That is when I thought I must get my family away. The children are scared but they are safe."
Asked what possessions she had managed to salvage, she pointed to her children and then her clothes.
Rasmeh and her husband, Ahmed, were queueing to be registered as new arrivals. They left Syria with their daughters, Worood and Asma, and son Waleed.
"We could not live there any more," said Rasmeh. "You are scared all the time. We used to have sheep and land. They took everything. I hope Assad stays in hell for ever."
The inflow is placing a huge strain on Jordan, which now hosts 515,000 registered Syrian refugees, representing 8 per cent of its population of 6.2 million.
Jordan is trying to limit the influx by closing its border but Syrians slip across by walking long distances.
Deeb, from Homs, arrived after walking for six days across the desert with his wife and three sons, aged 10, 8 and 6.
"We ran out of water in the desert. When we arrived in Jordan, they gave us food and water. We are so scared for our family back in Syria."
Lebanon hosts 716,000 registered refugees and perhaps 300,000 more undocumented arrivals.
Lebanon's population of only four million has grown by a quarter in two years. And the numbers keep rising: Lebanon has kept its border open, allowing some 8000 refugees to cross every day.
In Lebanon's capital, Beirut, Syrians have settled in already overcrowded Palestinian refugee camps. About 2000 families have moved to Shatila camp on the city's southern fringe.
Many live in ramshackle homes amid narrow alleys and open sewers. The Ali family fled Aleppo, where they lived in a modern two-storey villa.
The two eldest brothers, Riad and Ali, both studied law at university. Now the family inhabit a dank apartment.
Mustafa Ali, the father, earns $10 a day installing satellite dishes.
His son, Osama, 14, works in a bakery for $7 a week.
Syria: Key developments
Syria
President Bashar al-Assad said military strikes against his country would risk triggering a regional war. He said the Middle East was a "powder keg" and no one could say what would happen if the West took military action against Syria. He warned, "The whole world will lose control of the situation. Chaos and extremism will spread. The risk of a regional war exists."
United States
Senator John McCain told reporters that President Barack Obama must make a strong case for attacking Assad's Syria if he wanted to win congressional backing for the operation. He also said Obama's intervention now would be more difficult because Assad "is moving his forces around". McCain and Senator Lindsay Graham, who spoke after meeting Obama, questioned the wisdom of the Administration publicly signalling in advance its intention to strike.
France
A French intelligence report estimated that the Syrian regime launched the alleged August 21 attack involving a "massive use of chemical agents" and could carry out similar strikes in the future. The Government, on its website, published a nine-page intelligence synopsis about Syria's chemical weapons programme that found that at least 281 deaths could be attributed to the attack in rebel-held areas outside Damascus.
Russia
The Russian news agency Interfax said President Vladimir Putin hoped to send a delegation of legislators to the US to discuss the situation in Syria with members of Congress. Russian Foreign Minister Sergey Lavrov said evidence the US showed Moscow to blame the Syrian regime for the alleged chemical weapons attack was "absolutely unconvincing". He said "there was nothing specific" in the evidence.
Turkey
Turkish Prime Minister Recep Tayyip Erdogan's chief adviser brushed aside fears that a US strike against Syria could provoke Damascus to attack Turkey. Yalcin Akdogan told the Turkish daily newspaper Aksam that an attack on Turkey "would be madness and suicide" because Turkey was a member of Nato. The alliance is committed to defending member states.
China
Chinese Foreign Ministry spokesman Hong Lei said his country urged the US not to take unilateral action against Syria. He said Washington briefed Beijing about the matter and that China was concerned about chemical weapons use but that the country opposed the US acting alone. Hong did not address the possibility of the US acting together with France. Beijing would almost certainly oppose any strike.
United Nations
The UN says the chemical weapons inspection team that investigated the stricken areas last week finished preparing biological and soil samples, which were shipped from The Hague and would soon reach their designated laboratories. Secretary-General Ban Ki Moon planned to brief the Security Council's 10 non-permanent members on the Syrian crisis today.
- AP