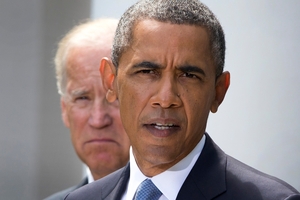 For more than a week, the White House had been barrelling towards imminent military action against Syria.
But President Barack Obama's abrupt decision to instead ask Congress for permission left him with a high-risk gamble that could devastate his credibility if no action is ultimately taken in response to a deadly chemical weapons attack that crossed his own "red line."
The stunning reversal also raises questions about the President's decisiveness and could embolden leaders in Syria, Iran, North Korea and elsewhere, leaving them with the impression of a US President unwilling to back up his words with actions.
The President, in a hastily announced statement yesterday in the White House rose garden, argued that he did have the power to act on his own. But faced with the prospect of taking action opposed by many Americans, the commander-in-chief tried to shift the burden and round up partners in Congress to share in that responsibility.
"While I believe I have the authority to carry out this military action without specific congressional authorisation, I know that the country will be stronger if we take this course, and our actions will be even more effective," Obama said. "We should have this debate."
The consequences of Obama's turnabout could be sweeping, at home and abroad. If Congress votes against military action, it would mark a humiliating defeat for a second-term President already fighting to stay relevant and wield influence in Washington.
It could also weaken his standing internationally at a time when there are growing questions about the scope of American influence, particularly in the Arab world.
But the White House sees potentially positive political implications in punting the strike decision to Congress. Obama could make good on the promises he made as a senator and presidential candidate, when he called for restraint and congressional consultation by leaders seeking to use military force. And with the American public weary of war and many opposed to even modest military action against Syria, Obama could share with Congress the burden of launching an attack.
An NBC News poll conducted last week suggests the use of chemical weapons has not shifted public opinion in favour of taking military action against Syria. About 50 per cent said the US should not take military action against the Syrian Government in response to the use of chemical weapons, while 42 per cent said the US should. Just 21 per cent say military action against Syria is in the US national interest.
Obama's advisers would not say what the President will do if Congress does not approve military action. If he presses on with military action despite their opposition, he is likely to cast Congress as obstructionists allowing an autocrat to kill civilians without consequences.
"Here's my question for every member of Congress and every member of the global community: what message will we send if a dictator can gas hundreds of children to death in plain sight and pay no price?" Obama asked yesterday.
It is not clear how effective that approach would be given that Obama has been deeply reluctant to get involved in Syria's lengthy civil war. More than 100,000 people have died in more than two years of clashes between the Government and rebels seeking to overthrow President Bashar al-Assad. But Obama declared last year that the one thing that would cross his "red line" would be if Assad deployed his stockpiles of chemical weapons.
US officials say that has now happened multiple times this year, most recently on August 21 in the Damascus suburbs. According to the Obama Administration, more than 1400 people were killed by the deadly gases, including 426 children.
For Obama, the stakes for responding after the most recent attack were already heightened, not only because of the scope, but also because of the scant response from the White House when Assad used chemical weapons earlier this year. While Obama approved shipments of light weaponry and ammunition for the rebel forces fighting Assad, the bulk of the arms are yet to arrive.
Throughout much of the past week, it appeared Obama was ready to make good on his promises to act in the face of chemical weapons use. Five navy destroyers armed with Tomahawk cruise missiles were put on standby in the Mediterranean Sea. Defence Secretary Chuck Hagel declared that the military was "ready to go" once Obama gave the order. And the President dispatched Secretary of State John Kerry twice last week to make a vigorous and emotional case for a robust response to a reluctant public.
As the week dragged on, Obama's international backing began to erode. Russia again opposed action against Syria, this time during private discussions between the five permanent UN Security Council members. Nato declared that the alliance would not launch co-ordinated military action. And in the strongest blow for the White House, Britain's Parliament voted against military action, a stunning defeat for Prime Minister David Cameron, a key ally who had expected to join Obama in taking military action.
Despite the setbacks, Obama and his team were prepared to move forward without any authorisation from the UN and Congress. But on Saturday, aides said the President simply changed his mind. After a long walk around the White House grounds with his chief of staff, Obama summoned some of his top aides and told them he now wanted to hold off on launching an attack until Congress had its say.
The decision ensures that a military strike will be put off for at least another week. Speaker John Boehner said he expected the House to consider the force resolution next week.
Senate Majority Leader Harry Reid said he, too, would hold a vote no later than the week of September 9, with public hearings beginning this week.
Even before Congress decides, Obama will have to directly confront the international implications of his decision. He is set to travel abroad this week for a visit to Sweden and a meeting of world leaders in Russia.
There, he will come face-to-face with Russian President Vladimir Putin, one of Assad's strongest supporters. Putin, in a pointed jab, asked Obama to take more time to consider the full implications of a strike on Syria, appealing, he said, not to another world leader, but to a Nobel Peace laureate.
Syria: Key developments
The Netherlands:
United Nations chemical weapons inspectors arrived in the Netherlands with samples collected during four days of on-site Syria visits. They are expected to be sent to European laboratories to be checked for traces of poison gas. The Organisation for the Prohibition of Chemical Weapons, based in The Hague, was expected to receive blood and urine samples taken from victims as well as soil samples from affected areas.
Syria:
Rebels fighting to topple President Bashar al-Assad said they plan an offensive coinciding with any US strikes. Syrian state TV aired President Barack Obama's speech after earlier showcasing Syrian soldiers training, fighter jets soaring in the sky and tanks firing at unseen targets to the backdrop of martial music.
France:
President Francois Hollande's office said he will wait for Parliament to consider possible military action against Syria.
Russia:
President Vladimir Putin urged Obama to consider whether strikes would help end the violence and be worth likely civilian casualties. Putin said Obama should reflect on the results of US intervention in Afghanistan and Iraq.
United Nations:
UN disarmament chief Angela Kane briefed Secretary-General Ban Ki-moon on the chemical weapons investigation.
Mediterranean Sea:
Five US Navy destroyers were in the eastern Mediterranean Sea waiting for the order to launch. French military officials confirmed the frigate Chevalier Paul and the transport ship Dixmude were in the Mediterranean but denied any link to possible Syria operations.
Israel:
The Israeli military said it deployed an Iron Dome missile defence battery in the Tel Aviv area. Israel has sent a dozen jet fighters and reconnaissance planes over Lebanon during 48 hours to monitor Hizbollah.
Iran:
Alaeddin Boroujerdi, head of the Iranian Parliament's Committee on National Security, visited Damascus to show support for the Syrian regime. He said a strike against Syria will "not be confined to its borders but will have repercussions in the entire region".
Jordan:
Information Minister Mohammad Momani said Jordan believes diplomatic efforts must be exhausted first. Demonstrators burned US and Israeli flags and chanted outside the American embassy in Amman.
- AP