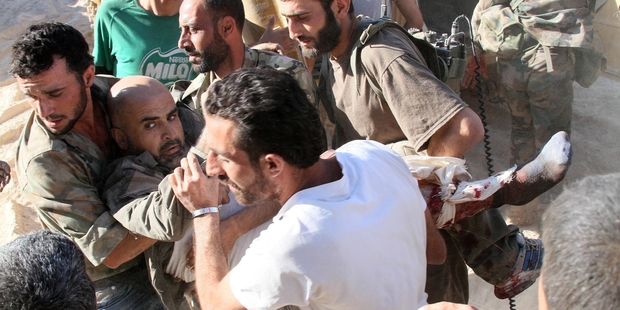 Saudi Arabia secretly offered Russia a sweeping deal to control the global oil market and safeguard Russia's gas contracts, if the Kremlin backed away from the Assad regime in Syria.
Leaked transcripts of a behind-closed-doors meeting between Russia's Vladimir Putin and Saudi Prince Bandar bin Sultan shed an extraordinary light on the hard-nosed Realpolitik of the two sides. Prince Bandar, head of Saudi intelligence, allegedly confronted the Kremlin with a mix of inducements and threats in a bid to break the deadlock over Syria.
"Let us examine how to put together a unified Russian-Saudi strategy on the subject of oil. The aim is to agree on the price of oil and production quantities that keep the price stable in global oil markets," he is claimed to have said at the four-hour meeting with Putin.
"We understand Russia's great interest in the oil and gas in the Mediterranean from Israel to Cyprus. And we understand the importance of the Russian gas pipeline to Europe. We are not interested in competing with that.
We can co-operate in this area," he said, purporting to speak with the full backing of the United States.
The talks appear to offer an alliance between the Opec cartel and Russia, which together produce more than 40 million barrels a day of oil, 45 per cent of global output. Such a move would alter the strategic landscape.
The details of the talks were leaked to the Russian press. A more detailed version has since appeared in the Lebanese newspaper As-Safir, which is hostile to the Saudis.
As-Safir said Prince Bandar pledged to safeguard Russia's naval base in Syria if the Assad regime is toppled, but he also hinted at Chechen terrorist attacks on Russia's Winter Olympics in Sochi if there is no accord. "I can give you a guarantee to protect the Winter Olympics next year. The Chechen groups that threaten the security of the Games are controlled by us," he allegedly said.
Prince Bandar went on to say that Chechens operating in Syria were a pressure tool that could be switched on and off.
Putin has long been pushing for a global gas cartel, issuing the "Moscow Declaration" last month to "defend suppliers and resist unfair pressure".
The Putin-Bandar meeting took place three weeks ago. Putin was unmoved by the Saudi offer. "We believe that the Syrian regime is the best speaker on behalf of the Syrian people ..." he said.