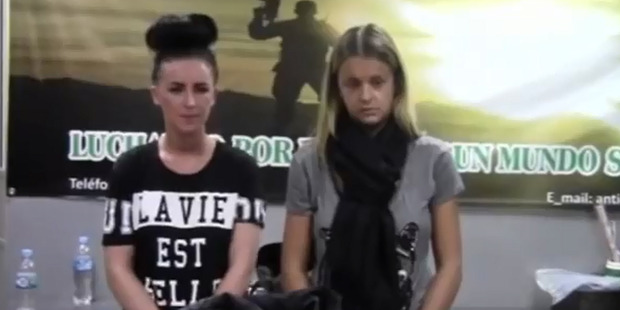 Two British women have been detained in Peru after allegedly being caught trying to fly out of Lima airport with cocaine worth up to £1.5 million ($2.9 million) stashed in their suitcases.
Melissa Reid, 19, from Lenzie near Glasgow, and Michaella McCollum Connolly, 20, from Belfast, were detained in Peru as they attempted to check in for an Air Europa flight to Madrid.
Peru police said that narcotics agents searched the pair and discovered a total of 11.5kg of cocaine hidden in their luggage.
Video footage showed the pair being questioned.
Reid's suitcase allegedly contained 18 food product packets, inside which was a total of 5.8kg of cocaine. A further 5.8kg of the class A drug was allegedly discovered stuffed inside another 16 food packets in McCollum Connolly's luggage.
It is thought the two are being held in a prison in the Lima area pending an investigation by a local judge.
Freelance journalist Dan Collyns, in Lima, said the pair faced prison sentences of six years and eight months if convicted, which was the standard term for smuggling less than 10kg of cocaine.