Labour MPs urge action from leader as big lead fades in UK polls.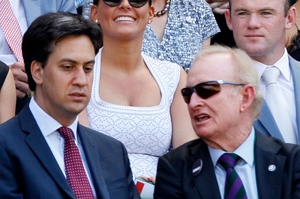 Nearly three years after becoming the youngest leader in the history of Britain's Labour Party, Ed Miliband is learning the hard way about the pendulum swing of politics.
The Opposition faces deepening disquiet over Miliband's low-key leadership style and the early signs of an existential debate as its opinion-poll lead over the governing Conservative-Liberal Democrat coalition melts away.
In five months, Labour's average lead over the Tories has slumped from 12 points to just five - and according to a recent "poll of polls," the two main parties are now on equal pegging.
With an eye on next month's party conference, more and more Labour MPs have gone public with demands that Miliband start swinging his fists.
Among them is shadow health minister Andrew Burnham, who warned at the weekend that time was running out.
"There's definitely a need to shout louder and speak in a way that captures how people are feeling and thinking. There's definitely a need to put our cards on the table," he said in a Guardian interview.
Yesterday Labour MP Graham Stringer said Lord Peter Mandelson or another individual "of his ability" should be brought back to take charge of the party's communications, the Daily Telegraph reported.
Miliband was just 40 when, as a consensus figure, he took the party helm in September 2010 after a contest with his elder brother, David.
He took over a party that was exhausted by 13 years in power, its record of governance ravaged by huge debts incurred by the 2008 financial crisis. But as the first coalition in Britain since World War II started to wield the spending axe, Miliband found a strong message in projecting Labour as defender of the social safety net.
In local elections, he won over Lib Dem voters alienated by their party's compromises in government, while older, right-wing Tories flirted with the UK Independence Party (UKIP), a marginal group pounding out an anti-immigrant, anti-Europe message.
But the coalition proved more resilient than many people thought.
The economy is improving, enabling the Conservatives to portray themselves in a heroic light as the people who repaired the damage left by Labour. If the upturn continues, the pain of spending cuts may well have faded by the next general elections, due by May 2015.
Pro-Liberal Democrat voters remain, for now, tempted by Labour. But Prime Minister David Cameron has the UKIP in a python-like squeeze. He is making get-tough noises on immigration and promising a referendum on the European Union (EU), a proposal that is high-risk but will only take place after the next elections.
A former Labour Party strategist said there were pitfalls for Miliband if he tried to muscle up his image.
Miliband should stay the course and bet on a bloodbath within the coalition as the elections near and the two parties struggle to present distinctive images to the electorate, according to his thinking.
"He is slammed for being indecisive and lacking initiative, but I think this is a big misreading of the situation because he basically knows that the election is for Cameron to lose, not his win," he said.
"Remember what happened when [Neil] Kinnock got so cocky and basically blew the election for Labour which [then Conservative Prime Minister John] Major looked to have no chance of winning?"
Next month's conference in Brighton, southern England, may well see a revival of a debate stifled by Miliband's "don't-rock-the-boat" approach after the 2010 election drubbing. In essence: What is the Labour Party for? "Labour is pretty much a confused brand," admitted the former strategist.
On the party's left, many are disgusted by the idea of Labour, set up by the trade unions in the 19th century to defend the working man, as the party of spin doctors and focus groups - the "New Labour" model defined by Tony Blair as essential for winning the middle ground.
Labour "can grub about in search of policies which will attract the swing voters and lose the next general election or it can become again an indisputable party of principle and win," says former deputy party leader Roy Hattersley, in a new book, The Socialist Way - Social Democracy in Contemporary Britain.
Anger flared in June when Miliband clashed with Britain's biggest trade union, Unite, after two of its members were accused of rigging a vote for Labour's next election candidate in Falkirk. Then Miliband admitted that if the party returned to power, it would not reverse the coalition's spending cuts, triggering smirks that "Red Labour" had become "Blue Labour", or conservative in all but name.
"It feels as if Labour has lost its mojo," the left-wing political weekly the New Statesman said in a commentary. "This is partly a function of being adrift between two positions. There is the old default of decrying everything the coalition does. Then there is the new challenge: credibly promising a better alternative in recognition of the fiscal squeeze that will endure beyond the next election."