Ibrahim al-Asiri has developed devices that are difficult to detect through the normal means used by Western security experts.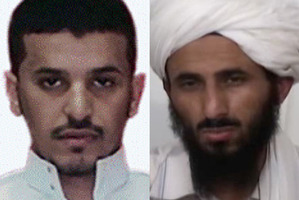 In a land where allegiances are easily bought and sold, the price put by the Yemeni Government on the head of Ibrahim al-Asiri last week tells its own story.
Under pressure to thwart what the West feared would be a major al-Qaeda terror attack, the country's security forces offered to pay five million riyals to anyone who could help find the terror group's master bomber.
However, the reward, issued for Asiri and 24 other leading members of al-Qaeda in the Arabian Peninsula (AQAP), is not as impressive as the figures sound. The equivalent is just £15,000 ($29,000) - far less than the £103,000 that AQAP itself offered last December for anyone who killed Gerald Feierstein, the United States Ambassador to Yemen.
The bounties show how perilously level the playing field in the war on terror has become in Yemen, where a weak, corrupt and cash-starved central government is pitted against one of the most sophisticated and well-resourced al-Qaeda franchises on the planet.
The US only yesterday called off a terrorism alert triggered by an intercepted conversation between Ayman al-Zawahiri, the leader of al-Qaeda, and Nasser al-Wuhaysi, the commander of the terrorist movement's Yemen affiliate. All but one of the 19 diplomatic missions closed as a result of the alarm will reopen today, the exception being the US Embassy in the Yemeni capital, Sana'a, which will remain shut until further notice.
A decision to close the consulate in the Pakistani city of Lahore because of a separate threat will stay in force.
Whether the attack was to target the embassies themselves or, as some reports claimed, against a set of Yemeni oil refineries, remained unclear. What really worries Western security officials is the threat posed by the expertise of the Saudi-born Asiri to deliver destruction for the al-Qaeda leadership virtually anywhere on the planet.
For the 31-year-old former chemistry student has achieved a terrorist breakthrough, equivalent to cracking the Enigma code - designing bombs that can pass undetected through airport security, defying the sophisticated additional checks put in place since September 11.
His technical wizardry has been responsible for the two most serious terror alerts in recent years. The first was in 2009, when the so-called "underpants bomber", Umar Farouk Abdulmutallib, a London-educated Nigerian student, tried to detonate an Asiri-made bomb on a flight over Detroit.
Then, in the "parcel bomb" plot of 2010, two Asiri devices were hidden in cartridges of computer printer ink on planes bound from Yemen to the US, primed to detonate in mid-air.
On both occasions disaster was avoided largely by luck. The "underpants bomb" failed to detonate properly, while the parcel bomb plane was diverted to East Midlands airport in Leicestershire after a Saudi intelligence tip-off. Even then, though, the devices' design was so sophisticated that Scotland Yard experts dismantled it without realising it was a live bomb.
Asiri's genius has been to perfect the use of an odourless plastic explosive called pentaerythritol tetranitrate, or PETN, which is also used to detonate atom bombs. Not only does it foil sniffer dogs, it shows no particular profile on x-ray machines. Yet just a few ounces can demolish a house.
"Asiri is a master of his craft, and the single most serious terrorism threat to Britain and the West," said one British security source. "He may be hiding in the mountains in Yemen, but his skills can potentially reach us over here. It is one reason why AQAP gives the security world sleepless nights."
Asiri's latest ruse could take bombing to a new level of concealment altogether. Last year, it was revealed he was trying to design devices to be surgically implanted inside a bomber's body.
A detailed document discovered by US intelligence suggested he had commissioned doctors to examine surgical processes for inserting the bombs and, after experimenting on dogs and other animals, had worked out that an overweight bomber would best suit his purpose. "The idea was to insert the device in the terrorist's 'love handle'," one US official told Newsweek.
Already, Asiri has used a human guinea pig for his research - his 23-year-old brother, Abdullah, whom he equipped with a "suppository bomb". Abdullah, who is said to have been brainwashed into jihadism by his older sibling, then attempted to kill Prince Muhammad bin Nayef, a senior Saudi interior minister who has led a programme in the kingdom to encourage terrorists to reform.
Posing as a jihadist keen to repent, Abdullah gained a private audience with Muhammad, detonating the device when he entered his office. It killed Abdullah but missed the Prince, who escaped only with an injured hand and a gory mess over his office ceiling.
Security sources later said Abdullah's own body mass had deflected the charge upwards rather than outwards. But they believe it is only a matter of time before Asiri overcomes that glitch.
AQAP is the only foreign al-Qaeda franchise to have mounted any potentially serious terror attacks on Western airlines in recent years. And the fact that Britain evacuated its heavily fortified embassy in Sana'a entirely, rather than simply reducing to a few key staff, suggests an unusual level of alarm.
So who is the slightly-built Asiri and how did he rise to become such a threat? Born the son of a retired soldier in neighbouring Saudi Arabia, he was raised in a pious, middle-class Muslim family. He studied chemistry at Riyadh's King Saud University but dropped out after two years. In 2003 he was arrested and jailed while trying to enter Iraq to fight the Americans.
Quite why he became radicalised is not clear, but his family say he underwent a personality change after the death of another brother in a car crash.
After serving nine months in jail, he fled to Yemen with Abdullah, where he now tops the country's list of most-wanted terrorists.
Asiri is now believed to be hiding with the rest of AQAP in Yemen's lawless hinterlands. Already, he is understood to have achieved what is arguably the ultimate accolade for any al-Qaeda terrorist - numerous US drone strikes aimed specifically at him. Last week saw a spike in drone activity, with at least 14 suspected AQAP militants dying in three strikes.
But while officials credit the strikes with making inroads into AQAP's upper leadership, there are fears they act as a recruiting agent for the cause they are trying to eliminate. For when they miss their targets and kill civilians, AQAP members often arrive on the scene, offering to pay for funerals, providing cash compensation and encouraging angry relatives to join their ranks.
- Telegraph Group Ltd
Al Qaeda the leaders
Ayman al-Zawahiri
The founder of the Egyptian Islamic Jihad, which merged with al-Qaeda in 1998, he is accused of involvement in the 1998 bombings of US embassies in Dar es Salaam, Tanzania, and Nairobi, Kenya. He was also behind the 1997 attack in Luxor that left 68 dead. Zawahiri became al-Qaeda's leader in May 2011 after Osama Bin Laden's death.
Abu Bakr al-Baghdadi
He is al-Qaeda's leader in Iraq. Born in 1971, the US State Department defined him as a Specially Designated Global Terrorist in 2011, offering a US$10 million ($12.4 million) reward for his arrest. He is responsible for the 2011 attack on Umm al-Qura mosque in Baghdad that killed 28 people, and was behind an attack in Hillah, Iraq, that killed 24 policemen.
Nasser al-Wuhaysi
The head of al-Qaeda in Yemen, comes from a wealthy family and once served as Bin Laden's personal secretary in Afghanistan. He was one of 23 prisoners who tunnelled their way out of a maximum-security prison in Sana'a, in 2006.
- Independent