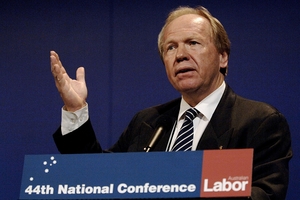 He claims to be the underdog, but as one of Queensland's most popular Premiers, Peter Beattie has the best chance of winning the marginal seat of Forde and turning around Labor's fortunes in the Sunshine State.
After several days of cajoling, Beattie has agreed to run in the Liberal-held seat south of Brisbane.
With Labor's preselected candidate Des Hardman elbowed out, Prime Minister Kevin Rudd steamrolled into town with a huge media pack yesterday to announce humble Peter was "here to help".
The fact that Labor holds only seven of the 89 seats in Queensland's Parliament - and eight of the 30 federal electorates - lured Beattie back to politics after a six year hiatus.
"If we can't win Forde we can't win government," Beattie said. The LNP holds Forde by 1.6 per cent.
Beattie once called on Rudd to quit Parliament after accusing him of destabilising Julia Gillard, but now accepts he had "learned from his experiences". He added: "I'm delighted he didn't accept my advice."
Political analyst Scott Prasser says handpicking one of the state's "favoured sons" will do well in the Queensland psyche.
The pair could be portrayed as homegrown heroes, on a crusade against the Coalition, he said. "[Rudd's] going to ... say, 'Queensland supports me, I've got momentum here. [Beattie] is willing to join me in my crusade to save Australia from Tony Abbott'."
He may be a favoured son, but Beattie not only doesn't live in Forde, he has lived in the US for several years. Forde's sitting LNP member Bert Van Manen said: "I wasn't parachuted in. I've grown up in this electorate."
Winning four state elections from 1998 put Beattie in the Labor pantheon, alongside Bob Hawke and Neville Wran. His ambitious programme included overhauls in education, juvenile justice, native title, prostitution and industrial relations.
But his last term was marred by calamities - notably the jailing of former Labor MP Merri Rose for blackmail and corruption charges against former minister Gordon Nuttall.
Treasurer Tim Nicholls said dusting off Beattie was a mark of desperation. "They've propped him up in a corner sort of like Weekend At Bernie's," he said, referencing the film that involves two men trying to convince people their dead boss is still alive.
- AAP