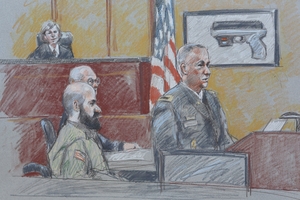 A US army major and self-styled "soldier of Allah" yesterday admitted shooting 13 of his comrades in cold blood, calmly telling their families that "war is an ugly thing" as he finally stood trial over the Fort Hood massacre.
Nidal Hasan, a former army psychiatrist, declared "I am the shooter" after being accused of trying to "kill as many soldiers as he could" at the military base in Texas four years ago.
Hasan, who is conducting his own defence, told the court martial that he had "switched sides" and was now a "mujahideen" waging a holy war against America.
The bearded defendant, who is in a wheelchair and paralysed from the waist down after being shot during his rampage, addressed the court room in a soft, controlled voice.
In a statement lasting barely a minute he said: "Panel members, good morning. On the morning of November 5, 2009, 13 US soldiers were killed and many more injured.
The evidence will clearly show that I am the shooter.
"The bodies found that day show that war is an ugly thing. Death, destruction and devastation are felt from both sides, from friend and foe. The evidence will show I was on the wrong side. The evidence will also show that I then switched sides. The evidence will show we mujahideen are imperfect soldiers trying to establish a perfect religion in the land of the supreme God. I apologise for any mistakes in this endeavour."
Hasan, a Muslim born to Palestinian immigrants in Virginia, faces 13 charges of premeditated murder and 32 of attempted premeditated murder, which relate to the more than 30 people injured. If convicted he could receive the death penalty for what a Senate report called the "worst terrorist attack on US soil since September 11, 2001".
Colonel Steve Henricks, the military prosecutor, said Hasan had planned to "kill as many soldiers as he could".
The attack began in a room at Fort Hood's Soldier Readiness Processing Centre, where dozens of recruits heading for Afghanistan were waiting for medical checks.
Hasan sat down among them with his head bowed. He was clandestinely armed with a semi-automatic handgun fitted with two laser sights, one red and one green. In his pockets were 16 magazines packed with 420 rounds of ammunition. He also had a fully loaded revolver. He had stuffed paper towels in his trousers to stop the magazines "clinking".
"Then he yells 'Allahu akbar!' and opens fire on unsuspecting and defenceless soldiers in the surrounding area," Henricks said. "He was shooting soldiers literally a few feet away. He used the laser sights to kill the uniformed soldiers, and only the uniformed soldiers."
The attack was a "methodical, targeted shooting spree of those wearing the uniform" and spared civilians, he said. A witness heard a female victim scream "My baby! My baby!" and plead for her unborn child.
Hasan fired 146 rounds in a few minutes before he was shot in the chest and brought down.
On October 14, 2009, he had been told that he was being deployed to Afghanistan, the court heard. He told an army doctor: "They've got another thing coming if they think they are going to deploy me."
He then began attending a shooting range more regularly. He was also a regular customer at a store called Guns Galore where he bought large amounts of ammunition. Hasan asked staff there for "the most technologically advanced handgun on the market" and was pointed to an FN Herstal 5-7.
Henricks said Hasan had two motives: he did not want to deploy, and he believed he had a "jihad duty to murder soldiers".
During proceedings the defendant, who now has to use a catheter and wears adult nappies, had to lift himself off his wheelchair for a minute in every 30 to prevent sores, and took stretching breaks every 20 minutes or so. For reasons of comfort he was also allowed by the judge, Colonel Tara Osborn, to wear camouflage fatigues rather than the usual dress uniform required at a court martial. He is still a serving soldier and has drawn nearly US$300,000 in salary since the attack.
The case is being heard by a military jury of nine colonels, three lieutenant colonels and one major. All 13 jurors will have to convict him of premeditated murder for the death penalty to be imposed. No US soldier has been executed after a court martial since 1961.
Victim tells of mayhem inside building
A soldier who was shot seven times by Fort Hood gunman Major Nidal Hasan defiantly stared down his attacker as he gave evidence at a court martial.
Retired Staff Sergeant Alonzo Lunsford, 46, who is 2m tall, was left blind in one eye after being shot in the face and still has a bullet in his back, but was able to walk to the witness box. During his testimony he locked his gaze repeatedly on the paralysed Hasan who stared back impassively from his wheelchair.
Lunsford told the court he was working as a health care specialist administering medical tests when Hasan opened fire in his building at the Fort Hood military base in Texas in November 2009, causing a "state of panic."
He described how one heroic doctor rushed out of a cubicle and charged at Hasan with a chair, only to be gunned down.
He decided to get up and make a move to the back door only a few steps away but Hasan turned on him.
"Then he discharged the weapon and the first round hit me in the head. I got knocked back, two steps back, and hit the floor. I'm lying face down trying to get to a desk and then I'm hit again in my back.
"Then I made my sprint for the back door. My plan was to exit the building and go to the left because the grass is real high, and to run in a zigzag to get to the parking lot, to get my jeep."
But coming out the door there was a drop and he started to fall.
He said: "As I'm tumbling out of that door I'm hit again. Then I'm lying in the grass. Major Hasan comes outside and he is shooting.
"Major Hasan ... reloads and continued to shoot while I'm being triaged."