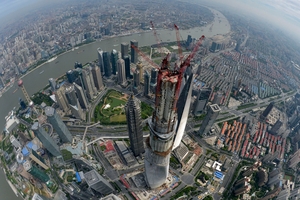 Shanghai's dramatic transformation into a skyscraper-packed megalopolis that's home to about 23 million people has occurred at a breakneck pace.
In 26 years rapid development has turned Shanghai into a futuristic mega-city and made Pudong, the area to the east of its Huangpu River, one of the most recognisable skylines on earth.
A 1987 photograph shows Pudong when Shanghai's population was just 11 million: drab warehouses and factories dot the Huangpu's eastern bank across from the city's historic Bund.
The same region today is an almost unrecognisable vista in which dozens of high-rises and skyscrapers jostle for space around the Shanghai Tower, a 632m "vertical city", which since the weekend is the world's second-tallest building.
Shanghai's multibillion-dollar facelift began in the 1980s, during the early stages of China's economic opening to the world. In 1990, Communist Party leaders in Beijing unveiled plans to develop the area to the east of the Huangpu into a "Special Economic Zone" and three years later "Pudong New Area" was officially founded.
At the heart of its blueprint was the Lujiazui Finance and Trade Area, a 31.7sq km Chinese answer to the US financial hub in Lower Manhattan.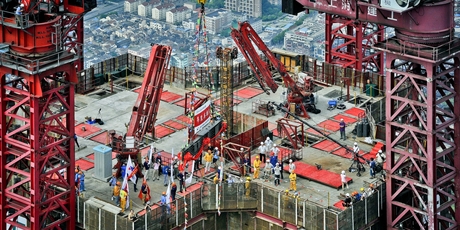 A trio of spectacular skyscrapers were planned: the 421m Jin Mao Tower, completed in 1999, the 492m Shanghai World Financial Centre, opened in 2008, and the Shanghai Tower, which has just had its "topping out" ceremony, becoming China's tallest building.
Pudong, just a few decades ago little more than a patchwork of paddy fields, is now home to the Shanghai Stock Exchange, the international airport and the futuristic Oriental Pearl Tower.
Shanghai-born architect Jun Xia, lead designer of the Shanghai Tower, describes his city's transformation as like "a dream". "Some days ... you still don't believe your eyes. It's incredible. It's a miracle."