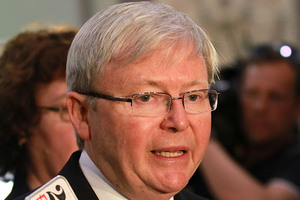 Australian Prime Minister Kevin Rudd has thrown doubt on the likelihood of a September 7 election, saying he has made "no determination whatsoever" about the date and that he intends to attend a G20 meeting just days before.
Speculation had been building that he was planning to visit the Governor-General today or tomorrow to seek approval for the September 7 election, shooting the starting gun on the keenly anticipated political contest.
But Rudd said the Government had yet to conclude negotiations with Victoria over school funding, with Western Australia on disability care, and with New South Wales over new environmental assessment procedures.
"These three negotiations haven't reached a conclusion yet, so we have a few things to attend to yet," he told reporters in Brisbane yesterday.
"So therefore on your question [about September 7], I've made no determination whatsoever in terms of the date of an election."
- AAP