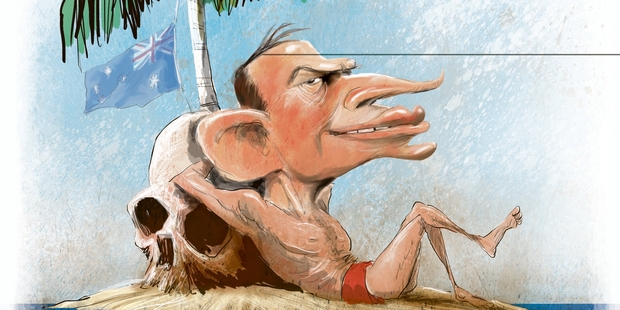 Two spectres haunt Tony Abbott, the man who may yet cement the first two decades of the century as a Liberal golden age.
Behind one shoulder is the dark ghost of disasters past: his first political boss, short-lived Liberal leader John Hewson, who famously lost the unlosable 1993 election to the hugely unpopular Labor Prime Minister Paul Keating.
Behind the other is the still-glowing image of mentor John Howard, who rose from the ashes to become Australia's second-longest-serving leader, shadowed only by Liberal legend Sir Robert Menzies.
Abbott is Australia's most devastatingly effective Opposition leader in decades. He saw off two prime ministers, almost expelled a Labor Government after only one term, and until a few weeks ago had Labor's throat in a death grip.
Even with resurrected Prime Minister Kevin Rudd leading a startling comeback, Abbott still has a strong chance of becoming the nation's 28th elected prime minister.
Yet derided as the Mad Monk for his Jesuit past and moral conservatism, and parodied for elephantine ears and his red surf lifesaving budgie smugglers, Abbott remains one of the most unpopular leaders in the polling history of federal politics.
Even many Liberal supporters do not like him. Most, like the rest of the nation's voting public, would far prefer Malcolm Turnbull, ousted by Abbott by a single vote in a bitterly contested 2009 challenge.
He trailed former Prime Minister Julia Gillard in both popularity and as preferred prime minister for much of her time in office, despite the Opposition's all but unshakable ascendancy over the Government. He is now a distant second to Rudd.
Although rare, it is not unknown for a deeply disliked leader to win elections. Malcolm Fraser crushed Labor's Gough Whitlam in 1975 despite an approval rating of less than 30 per cent. Keating, whose rating plumbed similar depths, beat Hewson.
Both were beneficiaries of far wider dissatisfaction with their rivals' policies: Fraser from the ruins of Whitlam's two terms, and Keating from Hewson's plans to introduce a GST.
Increasingly, as the similar advantages provided by Gillard's flailing leadership disappear with Rudd's return, Abbott's portrait is one of a shallow and ruthlessly ambitious politician, lacking in conviction and policy.
He is far more than that - an astute and dangerously effective politician, and an intelligent and thoughtful man with degrees in law and economics, and a master's from Queen's College, Oxford.
Educated by Jesuits and trained as a seminarian before turning to journalism, Abbott entered politics as Hewson's press secretary and - mentored by Howard - soared to the peaks of the federal Liberal Party.
But Abbott was also Howard's chief head-kicker, notably as chief advocate of the WorkChoices industrial relations policy that played a central role in Labor's 2007 victory - a policy that in private he opposed.
While conservatives have no problems with his direction, he terrifies many in the soft centre and to the left. Rudd portrays him as "one of the most extreme right-wing conservative leaders or politicians that the Liberal Party has thrown up".
Voters have trouble deciding how Abbott would emerge as prime minister. In Opposition he has been contradictory, divisive and ruthless, his style marked by negativity, simplistic sloganeering and a policy vacuum.
His knifing of Turnbull was every bit as nasty as Gillard's assassination of Rudd. And, like Gillard, he has backflipped on policy ranging from parental leave to public funding and parliamentary pairing.
He relentlessly pursued former Labor MP Craig Thomson over allegations of fraud. But he refused similar condemnation of Liberal trangressors.
What he would do in power worries many. His rhetoric suggests a slash-and-burn economic austerity, although his approach may in fact be far less draconian.
Rudd is already doing much of this work for him as he struggles with a budget not so much in the red as drowning in crimson.
His determination to dump Labor's mining tax and the planned progression from carbon tax to emissions trading scheme, plus other economic reforms, unsettles a business community that generally supports his broader direction.
Abbott is also unflinching on border protection, determined to reintroduce the harshest elements of Howard's Pacific Solution. He plans to create a vast tent city on Nauru, heedless of the despair, violence, self-harm and mental disorders that are already apparent among detainees.
How far Abbott's moral and social values would influence government policy concerns many voters. He refuses to allow his MPs a conscience vote on gay marriage, for example, and has a historical list of radically conservative quotes on issues such as the monarchy, climate change, premarital sex, and women's rights, roles and employment.
Many of these would never translate to policy. Abbott might abhor and oppose abortion, but he would never try to outlaw it again - if for no other reason than the massive backlash it would unleash.
It is the uncertainty that hurts Abbott - and the reality that, to paraphrase the late disgraced US President Richard Nixon, he doesn't have Julia Gillard to kick around any more.