British Prime Minister to push Russia's Putin and other leaders at G8 summit to take action against 'brutal' Assad regime in civil war.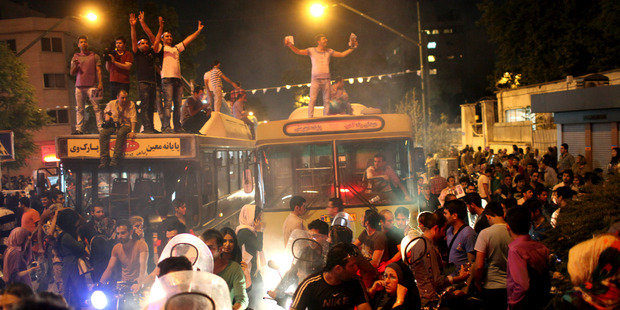 British Prime Minister David Cameron will support American plans to impose a no-fly zone over parts of Syria, as he attempts to convince world leaders to act against the "dictatorial and brutal leader" President Bashar al-Assad during the G8 summit in Northern Ireland this week.
Cameron was expected to discuss the dramatic escalation of international involvement in the Syrian civil war at a meeting with Assad's ally, Vladimir Putin, in Downing Street today.
He was to press the Russian President to sanction a catalogue of further measures against the Syrian regime, leading up to a possible no-fly zone, marshalled by US and allied jets and Patriot missiles operating from across the border in Jordan.
The push for action comes after US President Barack Obama said he would give "direct military aid" to Syrian rebels, citing evidence that Assad's forces had used chemical weapons.
Two years ago, Cameron committed RAF aircraft to policing a no-fly zone over Libya, arguing that "if Colonel Gaddafi uses military force against his own people, the world cannot stand by".
Cameron was to insist that Assad "is now guilty of the most appalling crimes against his people", in an interview to be televised today.
The US made it clear that it would join with Britain and France to urge Putin to drop his political and military support for the Syrian leader.
"It's in Russia's interest to join us in applying pressure on Bashar al-Assad to come to the table in a way that relinquishes his power and his standing in Syria," said Ben Rhodes, Obama's deputy national security adviser. "We don't see any scenario where he restores his legitimacy to lead the country."
Whitehall sources said yesterday the Government hoped the summit would produce a "route map" towards a solution to the crisis, with staging posts including economic sanctions, a no-fly zone - already discussed at a number of international summits - and direct military intervention.
All of these would require United Nations - and Russian - support, so the arming of Syrian rebels is seen as a more direct first step. But Russia underlined its determination to prevent an escalation of the conflict after Foreign Minister Sergei Lavrov questioned claims that Syria had used chemical weapons - and warned that a no-fly zone would "violate international law".
Washington's decision to arm Syria's Sunni Muslim rebels has plunged America into the great Sunni-Shia conflict of the Islamic Middle East. For the first time, in this civil war, those on America's "side" are Sunni and those it is opposing are Shia.
The Independent on Sunday reported that a military decision has been taken in Iran - even before Saturday's presidential election - to send a first contingent of 4000 Iranian Revolutionary Guards to Syria to support Assad's forces against the largely Sunni rebellion that has cost almost 100,000 lives in just over two years. Iran is now fully committed to preserving Assad's regime, according to pro-Iranian sources which have been deeply involved in the Islamic Republic's security, even to the extent of proposing to open up a new "Syrian" front on the Golan Heights against Israel.
Complicating issues, Hassan Rowhani, a moderate cleric, gained victory in Iran's presidential election in a result that promised to transform its political landscape and could ease troubled relations with the West.
Confounding expectations of a hardline triumph engineered with the backing of Ayatollah Ali Khamenei, the Supreme Leader, Rowhani, 64, a former Iranian chief nuclear negotiator, was declared the victor.
The result amounted to a surprise triumph for Iran's reformist movement and an apparent repudiation of Ayatollah Khamenei, who has driven efforts to thwart political moderates and openly preferred conservatives.
It also prefigured a radical change in direction from the divisive presidency of Mahmoud Ahmadinejad, who has overseen a crumbling economy and rising tensions between Iran and the West.
Cameron has pledged that the Syria crisis will be "up front and centre" when leaders of the world's most powerful economies meet for the G8 summit of world leaders in Enniskillen from tomorrow.
The Prime Minister faces growing unrest from opponents and within his own party over the wisdom of committing Britain to any military involvement in Syria.
Senior Liberal Democrats warned that a move to involve the armed forces in another conflict would effectively destroy the coalition.
US sources have confirmed that a no-fly zone is under discussion. The US has already moved Patriot missiles and fighter jets into Jordan as part of an annual exercise, but made clear that the military assets could stay on.
Cameron backed the lifting of an EU arms embargo on Syria in May, but says he has made no decision to send arms to the Syrian opposition.
In an interview with Dermot Murnaghan on Sky News, he stresses the need to work with the Syrian opposition, "because, after all, they are trying to defend their communities against appalling attacks, including, let's be clear, chemical weapon attacks".
Arming rebels fraught with risk
The options before President Barack Obama are all problematic.
He could supply the Syrian rebels lightly and then be accused of not doing enough. He could throw every weapon he has got at the problem and still fail in his minimal goal of forcing President Bashar al-Assad into negotiations.
American weapons could end up in the hands of fundamentalist militias, strengthening regions of Syria as hotbeds of Sunni extremism.
They could be used against Russia's S300 missile system, freshly supplied to the Assad regime, which would risk a full-on Cold War style proxy conflict.
A key concern for the White House will therefore be identifying secular or moderately religious rebels as worthy recipients of US military hardware.
It is a difficult task that is likely to reinforce Obama's cautious instincts.
What the rebels crave are more sophisticated arms and anti-aircraft weapons that would require large-scale training and would need to overcome Obama's reticence on involving the United States in Syria.
The rebel Syrian Military Council is likely to have to wait for more serious hardware.
Some in Obama's inner circle have long wanted to go further - bombing airfields and Syrian army weapons systems.
For now, there is only one thing that is ruled out by everyone in the White House - putting US boots on the ground.
Rebels in Aleppo dig in and dream of US help
It was long after dark when the rebel fighter saw something through his night-vision goggles. In the past, the regime had made its moves openly, by daylight, but this seemed different.
There were figures flitting across the end of the street ahead of him, perhaps 150m away, one by one. Then he realised that there were others, already much closer, half the distance.
He called the alert, and within minutes reinforcements had arrived, 1000 in all, such was the panic, and so overcrowding at the front that some had to be withdrawn again. In the battle that ensued, half a dozen rebel fighters were killed before they beat off the incursion, sending the regime's troops "fleeing, leaving their weapons behind", said the fighter, known as "Bushi", and his friends, boasting.
The attack on the eastern suburb of Sakhour had turned into another skirmish in Aleppo's long war, leaving the front lines just where they were before but it gave food for thought.
Was this the start of the regime advance on Syria's biggest city, promised since the fall of Qusair 10 days ago? Was it an attempt to seize the flyover the checkpoint was protecting, which if overrun would cut off rebel supply lines around the city? Or was it just a test of their defences?
Aleppo is waiting for two things: the enemy onslaught and American weapons. It is more confident of the first.
The fall of Qusair, 190km to the south, has changed expectations in the Syrian war. The regime promptly said it would move troops north to take the fight to Aleppo, half of which has been in rebel hands since July. With them came Hizbollah, whose thousands of reinforcements turned the tide in Qusair and are now said to be massing on the north side of Aleppo. Bushi and his friends believed Hizbollah were also among the Sakhour attackers, and even Iranians, given the accents they heard.
The United States gave its own response to Qusair: it would be putting its might behind the rebel cause. President Barack Obama had suddenly decided that, as France and Britain have been insisting for weeks, President Bashar al-Assad had used chemical weapons, and could not be allowed to win.
He is still set firmly against sending in the cavalry, and there will be no boots on the ground - nor much else, on the record at least. But officials were quietly briefing that anti-tank weapons and command-and-control vehicles were on the list.
They are also mooting the possibility - played down in other quarters - of limited no-fly zones on the southern and northern borders, with US bases at Incirlik in Turkey and Al-Mafrek in Jordan and Patriot missile defence systems handily placed.
A military exercise, Operation Eager Lion, with 5000 US troops including 300 US Marines, is conveniently also under way in Jordan.
The opposition will be rescued one way or the other, is the implication.
In Sakhour, "Morale since the fall of Qusair has been higher," said Abdulmajid Malah, a Free Syrian Army fighter. "Why? In one word - Hizbollah."
"Whether you in the West support us or not, we will defeat Assad. That's my last word," said another fighter, Ahmed Eissa.
- additional reporting Telegraph Group Ltd