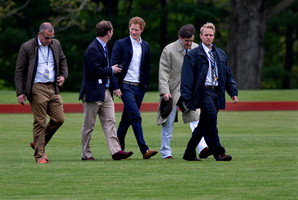 A helicopter carrying the Prince of Wales and the Duchess of Cornwall has made an emergency landing just minutes after take-off on a flight to Wales.
Fifteen minutes out of central London, a technical fault has forced the royal helicopter to urgently divert to a nearby aerodrome.
Charles and Camilla were flying to Hay-on-Wye for a day-long tour to its popular annual festival of literature, but minutes after boarding their flight, they were urgently diverted to Denham Aerodrome, in Buckinghamshire when it developed a "technical fault".
The helicopter was believed to be carrying up to seven people.
"The pilot carried out a controlled emergency landing after diverting to the airport," a spokesman for the royal couple said.
"It was quite a hairy experience," a source close to the palace added.
Despite the unscheduled stop, the royal couple transferred to cars and continued on to the market town by road.
They finally arrived close to three hours late, but emerged looking relaxed and smiling to be greeted by a crowd of several hundred well-wishers.
"They were unflappable despite what they went through. If anyone else had gone through what they did they would have cancelled their day," one pensioner, who preferred not to be named, said.
- AAP