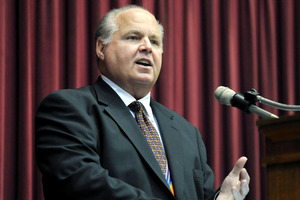 When Rush Limbaugh called Sandra Fluke a "slut", he probably thought it was just another incendiary remark: the latest in a four-decade career full of and, arguably, built on incendiary remarks.
In February 2012, Fluke, a 30-year-old graduate law student at Georgetown, appeared before Washington legislators to explain why her university ought to offer free contraception under its student health insurance plan. Limbaugh, 62, the cigar-chomping king of conservative talk-radio, described her on his show as a "slut" and a "prostitute".
When his comments proved controversial, rather than back down, he doubled down, suggesting: "If we are going to pay for your contraceptives, thus pay for you to have sex, we want something for it. We want you to post the videos online so we can all watch."
But this particular incendiary remark, and the ensuing controversy, were different to the others. A year later, observers believe his "slut" moment may prove to have been the beginning of the end for Limbaugh. Not only has the big beast been wounded, but some say the right-wing shock-jock's entire species may be facing extinction.
Radio industry expert Jerry Del Colliano, the editor of Inside Music Media, says, "When Limbaugh attacked Sandra Fluke, everybody said, 'he's killing himself' but he was dying off years before that."
While Limbaugh's loyal conservative listeners mostly stuck by him following the Fluke furore, his commercial partners did not. Progressive groups and liberal bloggers called for advertisers to boycott his show; among the 100 or more who heeded the call were AOL, Sears, Geico, Netflix, Capitol One and John Deere.
Last week Cumulus Media, which owns 40 of the local radio stations on which Limbaugh appears, revealed a revenue drop of US$5.6 million ($6.8 million) in the first quarter of 2013 compared with the year before. Cumulus chief executive Lew Dickey attributed US$2.4 million of those losses to the "syndicated talk segment". Though he didn't name names, the inference was clear: Dickey had already described the post-Fluke boycott as a "residual hangover" for his firm.
The Limbaugh camp has contested the accusations, claiming the arch-bloviator's ad revenue was dented only briefly by the controversy.
Last weekend, a source close to Limbaugh told the New York Daily News: "Lew needs someone to blame, [so] he's pointing fingers instead of fixing his own sales problem."
A few days later, an unnamed Cumulus executive informed the trade title Radio Ink that "48 of the top 50 network advertisers have 'exclude Rush and Hannity' orders", which prohibit their ads from appearing during Limbaugh's show, or that of his fellow right-wing radio host and Fox News personality Sean Hannity.
Premiere Radio, which syndicates both stars, flatly denied the claim. But this undignified, anonymous back-and-forth may well presage the termination of the Rush Limbaugh Show's relationship with Cumulus, as soon as the host's contract with the company expires at the end of this year.
According to one commentator, if Limbaugh's programme transferred to competing stations in several major cities, as seems likely, it would be "one of the biggest shake-ups in talk-radio history."
Conservative talk-radio has ruled the airwaves since the Reagan Administration abolished the so-called Fairness Doctrine in 1987, freeing broadcasters from the obligation to be "honest, equitable and balanced".
Limbaugh's undisputed abilities have long kept him the highest-rated talk radio host in the US. If his show really has 15 million listeners, as is regularly claimed, it would make his audience around five times larger than that for Fox News' Bill O'Reilly, the country's most popular cable TV news host.
Historically, the Republican Party has been so keen to harness that audience that its views lined up with Limbaugh's on almost every major social and political issue. It was a measure of the influence wielded by the talk-radio titan that when, in 2009, Michael Steele, national committee chairman of the "Grand Old Party" (GOP), described Limbaugh as an "incendiary" figure who shouldn't be taken seriously, he was forced to apologise publicly within 48 hours after a flood of listener complaints.
Now, however, Limbaugh is an increasingly embarrassing presence for a party attempting to evolve in the wake of its 2012 electoral defeat. In April, GOP strategist and pollster Frank Luntz was caught on tape telling college students that Limbaugh was proving "problematic" as several senior Republican figures sought to modernise the party's immigration platform.
"[Florida Senator] Marco Rubio's getting his ass kicked," said Luntz. "He's trying to find a legitimate, long-term effective solution to immigration that isn't the traditional Republican approach, and talk-radio is killing him."
Luntz's comments were echoed by Fox News host Geraldo Rivera, who told HuffPost Live he thought right-wing radio's influence had "helped cripple the GOP".
Just like the Republicans, conservative broadcasting is subject to shifting demographic winds in the US: the rise of the Hispanic vote; the rising age of the baby-boomer generation. The talk-radio sector had already suffered an advertising revenue slump of more than 30 per cent in the two years leading up to "Slut-gate". And with the bulk of its listeners now in their 60s and 70s, it will only grow more difficult to win back that business.
"Limbaugh's audience is limited to old people now," Del Colliano explains.
"What he got caught doing with the Sandra Fluke incident is what he's always done. He didn't lose his audience because of that; they're not mad at him. But he gave media buyers - who are all in their 20s - a good opportunity not to buy something that they don't like anyway. Generations X and Y have no interest in Limbaugh. He's done. He's finished."
To judge by his recent broadcasts, Limbaugh himself remains unbowed by his off-air difficulties.
This month, as three women were rescued from the house in Cleveland, Ohio, where they had been held against their will for a decade, he speculated that their captors were Obama voters, who might have kidnapped them in order to qualify for welfare benefits.
"Double benefits if one of the women has a baby," Limbaugh mused.
If he goes, it won't be quietly.
On the offensive: The big names
Sean Hannity
The 51-year-old host of The Sean Hannity Show boasts more than 13 million listeners per week, to add to his nightly television audience on Fox News, which peaked at about 3.6 million viewers during the 2012 presidential election. Hannity was half of a conservative-liberal double act, Hannity & Colmes, until the "liberal" Colmes quit in 2008. (The show is now called Hannity.)
Choice quotes include: "[Liberals] probably define peace as the absence of conflict. I define peace as the ability to defend yourself and blow your enemies into smithereens."
Glenn Beck
Between 2009 and 2011, when he appeared daily on Fox News, Beck was the public face of the Tea Party. The 49-year-old Mormon convert was subject to an advertising boycott, like Rush Limbaugh, in 2009 after he described President Barack Obama as a "racist" with "a deep-seated hatred for white people". The host of The Glenn Beck Radio Programme now has his own subscription internet TV network, TheBlaze.
Choice quotes include: "I'm thinking about killing Michael Moore, and I'm wondering if I could kill him myself, or if I would need to hire somebody to do it."
Rush Limbaugh
Missouri-born and Florida-based, the highest-rated talk radio host in the US claims a weekly audience of 15 million and has been broadcasting his show nationally since 1988. He is the author of books including the New York Times bestseller The Way Things Ought to Be (1992), and is the subject of books including Al Franken's Rush Limbaugh is a Big Fat Idiot and Other Observations (1996).
Choice quotes include: "Feminism was established so as to allow unattractive women easier access to the mainstream of society."
Michael Savage
Savage, 71, the host of The Savage Nation, was at one time the second most popular talk radio host in the US. In 2009, he was added to a list of 22 extremists banned from entering Britain by the then Home Secretary, Jacqui Smith, for "fostering hatred".
Choice quotes include: "I am gonna demand ... that no more Muslim immigrants come into this country ... How did these Muslims get into England? ... These vermin snuck in under asylum laws and the only reason there was an asylum law is that the liberals of England ... said that we have to be nicer to Muslims."
- Independent