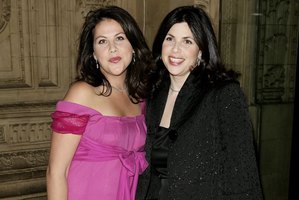 British television presenter Kirstie Allsopp and her two sisters all face Angelina Jolie's breast cancer dilemma.
Kirstie Allsopp, the Location, Location, Location presenter, says her 32-year-old sister, Sofie, had a double mastectomy to remove breast tissue and replace it with implants.
"My sister Sofie had the same procedure as Angelina Jolie," Kirstie told the Telegraph. "It's a brave decision and I couldn't support it more."
Their mother Fiona battled the disease for 26 years and so did their maternal grandmother.
They were told by a geneticist three years ago that their chances of developing breast cancer could be as high as one in three, the Daily Mail reports.
Sofie had a double mastectomy in November 2010 as a preventive measure but Kirstie, 41, is monitoring her breasts with regular scans. At 28, Natasha has yet to make a decision.
Sofie said: "I have spent my life watching my mother struggle with breast cancer, worried that I might lose her. So, for me, it was a very simple, logical decision to remove a part of my body which could potentially kill me."